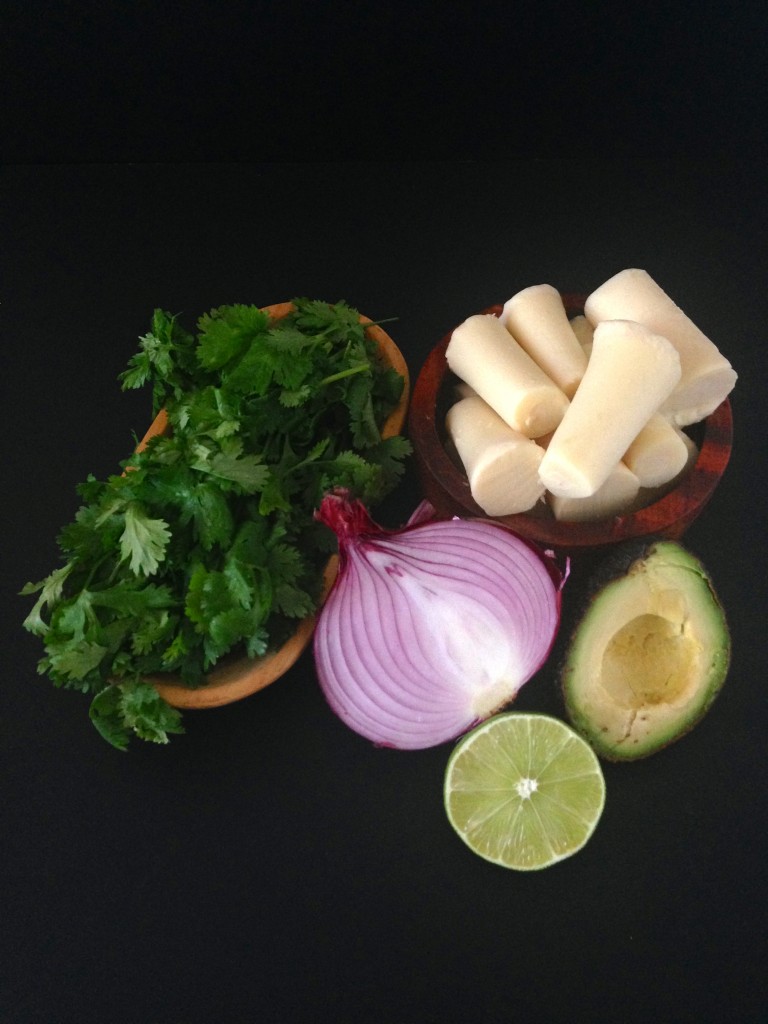 It's said life is what happens to us while we are making other plans. It's a lesson I still struggle with as a perpetual planner. I cannot live without a calendar at home, work, and synchronized on my phone. As you've likely noticed though, I haven't posted in months. I could make excuses, but I prefer to keep this blog about food so I'll just say life happened to me.
Also, I've fallen dreadfully short when planning this blog the past few months. Aside from life happening, I realized I was struggling with recipe writing, planning and promoting every post, and feeling overwhelmed with everything I believe I should be doing as a "blogger." As the season is changing, so is this blog.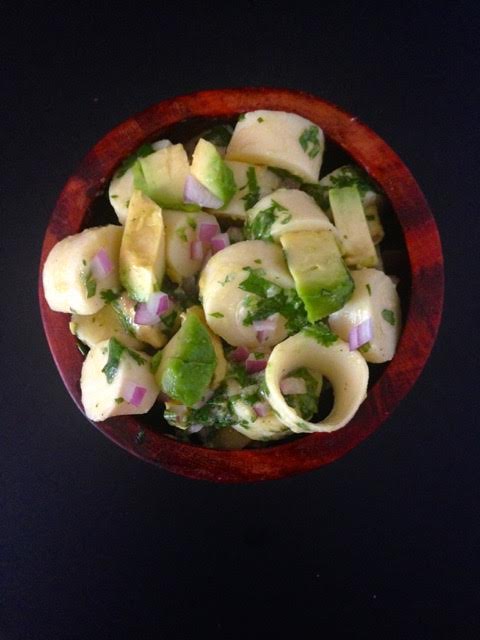 I will no longer tie myself to exact recipe amounts trying to write down measurements with a dirty hand while staining paper with food juices only to later strain to read what I've chicken-scratched to translate for the blog. I surrender! Honestly, I don't tend to cook that way. Recipes are guidelines for me, not mandates. I use recipes for ideas and glimpses into processes but not necessarily as dictators of taste. I use my experience, hands, and scent for that. I taste while I cook. I adjust seasonings, add a little more of this, temper heat with that and do things my way. It's how my Abuela cooked, how my Mami cooks and how I learned to cook as well. It's my comfort level because it comes naturally to me.
While I work on developing my recipe writing skills, I ask for your patience but also for your questions. I prefer a conversation about what went right and what went wrong in a recipe than just throwing something on paper to appease you. I know I don't follow recipes to the letter so I imagine you don't either. I'll provide guidelines going forward, at least for the most part, and I hope you can follow along. If not, ask me how to do it. I'm happy to help. It's one of the reasons I started this blog!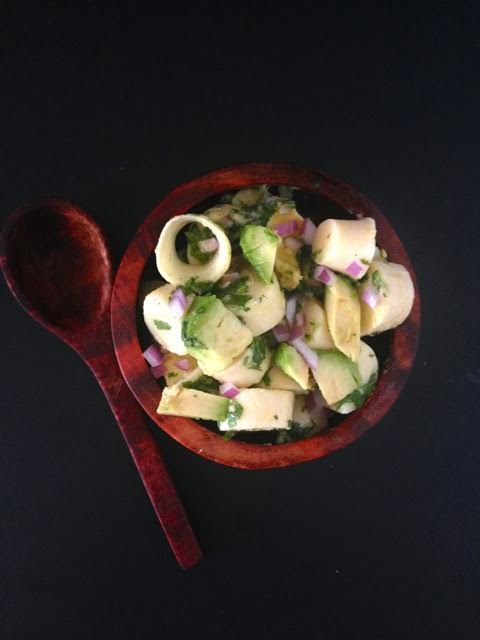 Back to the changing seasons, in Chicago we experienced a cooler than normal summer or so it seemed to me. When fall came bursting in early September, I rebelled by wearing sandals. Autumn appeared like an early unceremonious dinner guest prancing in while you're still in rollers. As fall was technically a few weeks away, I decided to grill one last time and make my favorite side salad I typically make in the summer – palmitos salad (as it's been dubbed by those close to me). Take that fall!
Now that I've fully embraced autumn's arrival like a pile of fallen leaves, I'm looking forward to wearing boots (or buying new ones), cozy sweaters and stylish coats. Alas, pumpkin everything awaits me!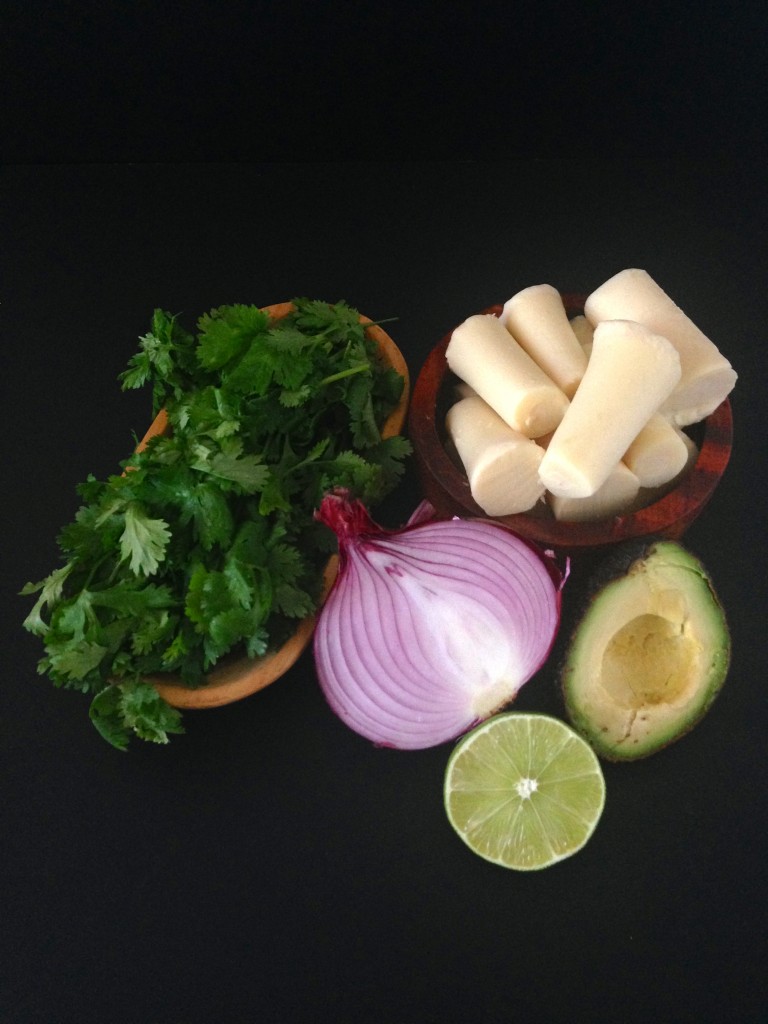 Hearts of Palm "Palmitos" Salad
2014-09-30 18:43:17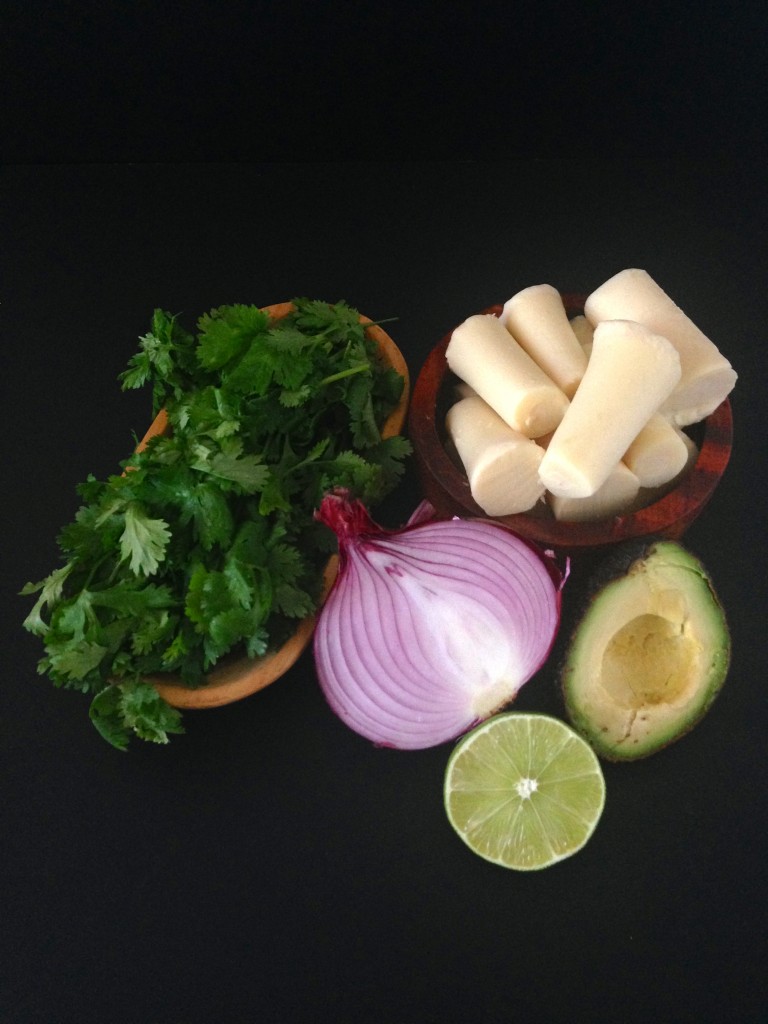 Serves 4
This recipe holds well in the fridge because the lime oxides the avocado. For a twist, toss in baby or salad shrimp for a heartier dish.
Ingredients
(All ingredient measures are approximates, adjust according to your personal preference)
Kosher salt
1/2 lime, juiced and reserve the other 1/2 lime
Extra virgin olive oil
White pepper to taste
1 avocado, cut into large chunks
1 can or jar of hearts of palm, drained, rinsed and sliced into 1-inch rounds
1/2 bunch of fresh cilantro, chopped
1/4 red onion, diced
Instructions
In the bottom of a medium non-reactive bowl, dissolve salt (I start with a teaspoon and adjust accordingly) in lime juice and let stand for a minute. Using a whisk, stir lime juice and salt together. Begin adding the oil slowly while continuing to whisk vigorously until the liquids thicken and hold together, about 30 seconds. Season with pepper and taste the dressing before adding the other ingredients.
Squeeze the reserved lime over the avocado and gently toss with the dressing. Add the remaining ingredients tossing to combine. Taste for seasoning and adjust as needed. Serve at room temperature.
Notes
If not serving immediately, cover with plastic wrap ensuring the plastic touches the salad directly, especially the avocado to keep it from turning brown.
Kitchen Nomad http://kitchennomad.com/
{ 0 comments }