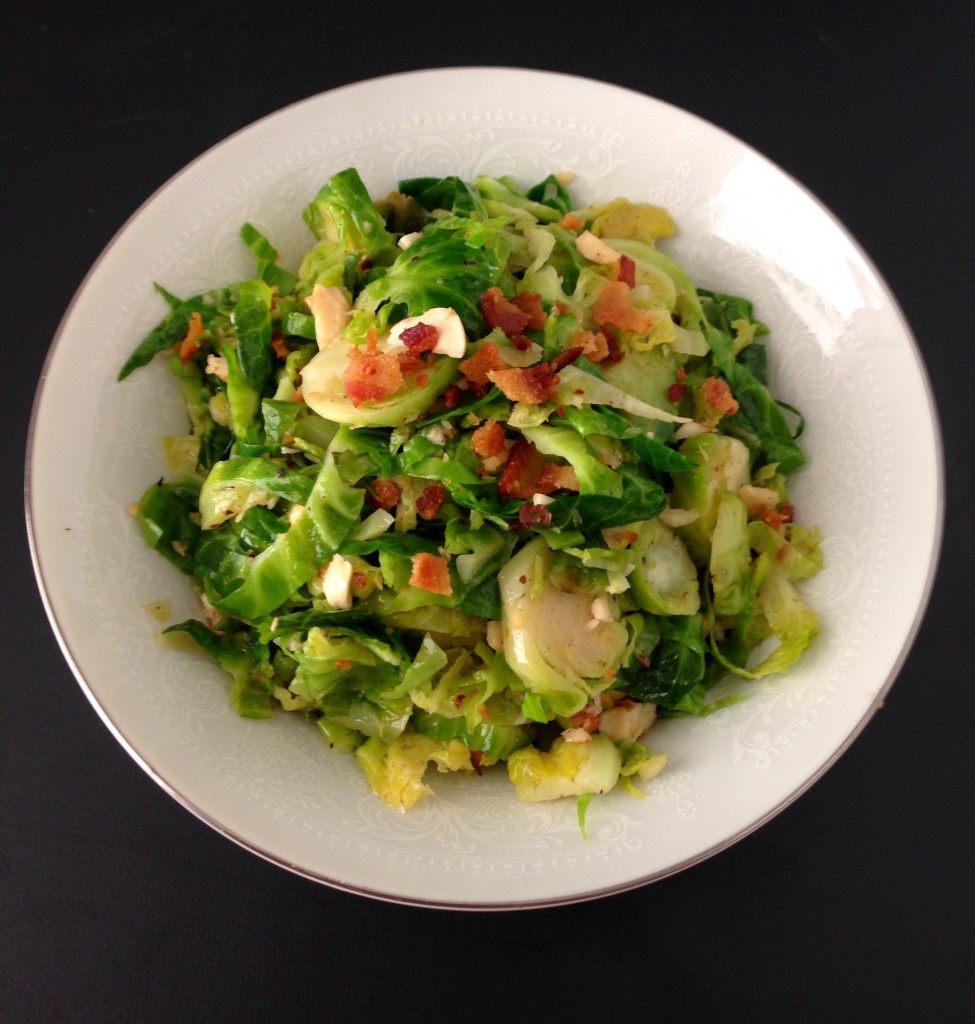 Have you noticed green vegetables have made a resurgence? Spinach, Brussels sprouts and kale (apparently now on its way out) have all held the limelight at one point in recent food history. And we just follow marketers when they tell us this or that formerly hated green vegetable is the next trendy superfood dissing the last one for the next. I guess Kermit was onto something when he sang it isn't easy being green.
Speaking of childhood characters, were you forced as a child to eat all your veggies? What was your particular vegetable disdain? I would bet Brussels sprouts make most people's list. My parent's generation boiled Brussels sprouts to an ominous olive green and served them plainly. Is it any wonder children (like me) refused to eat them? The odorous gas that emerged from boiling them into oblivion was enough to deter any kid.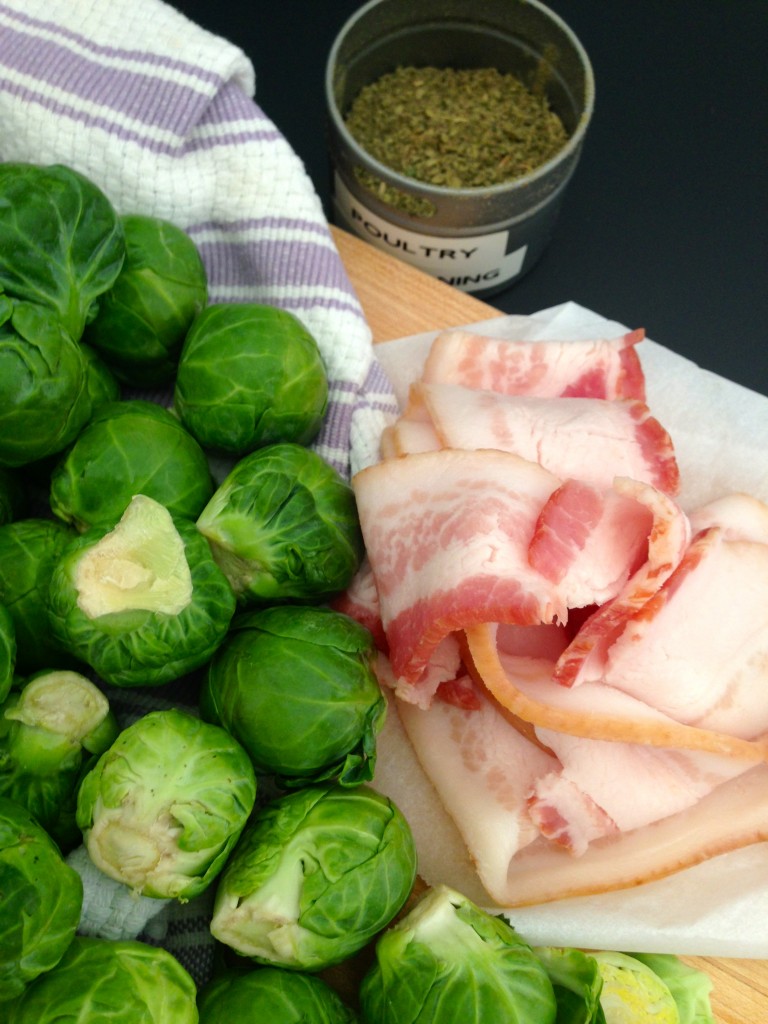 Fortunately, some genius figured out roasting or sautéing until just tender are the way to go. Of course, a little bacon doesn't hurt either. Fat is flavor and these mini cabbages shine with a bit of seasoning. This particular recipe has earned a place at the holiday table. I urge you to give them a try even if you loathe green vegetables and Brussels sprouts especially. Believe me, these are not your mama's version.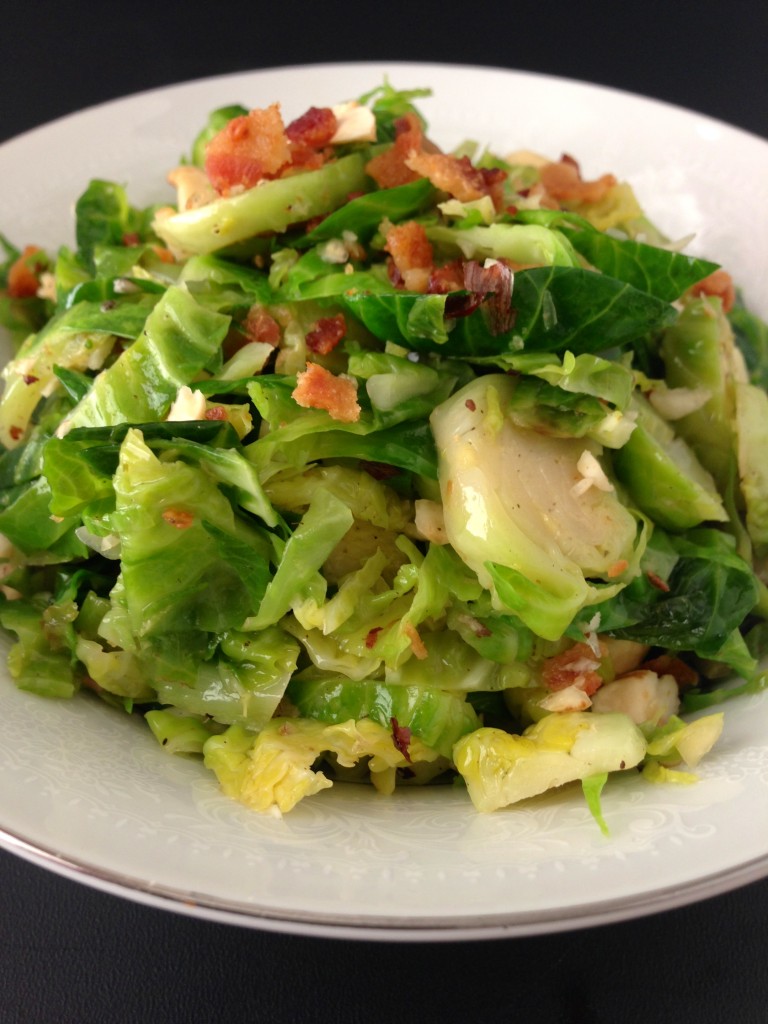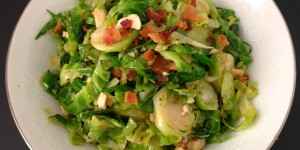 Brussels Sprouts with Bacon & Hazelnuts
2013-12-10 17:12:35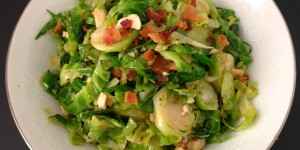 Serves 8
Once designated the redheaded stepchild of vegetables, these Brussels sprouts are elevated by bacon and simple seasoning. Adding cream enhances the silky texture of these cruciferous cabbages.
Ingredients
4 thick slices of bacon
2 pounds Brussels sprouts, stems trimmed, outer leaves removed and sliced thinly
4 tablespoons olive oil (optional)
1 teaspoon kosher salt
1 teaspoon poultry seasoning (The Spice House version I use is quite potent so add more if yours is mild)
Freshly ground pepper, to taste
¼ cup apple cider vinegar
¼ cup chicken or vegetable broth
Splash of heavy cream (optional)
½ cup chopped, toasted hazelnuts
Instructions
In a large sauté pan over medium heat, cook bacon slices until crisp careful not to overcook or burn the bacon. Remove bacon and drain on a plate lined with a paper towel and allow to cool. Once cooled, chop bacon into bits and set aside. Do not throw out the bacon fat!
Raise the heat to medium high. If your pan is not large enough to hold all the Brussels sprouts and you need to work in 2 or more batches, then reserve equal amounts of bacon fat for each batch adding it as you cook the individual batches.
If your pan can hold all the Brussels sprouts, place them in the pan and stir with a wooden spoon to coat them with the bacon fat. If needed, add the olive oil (I had to use a few tablespoons). Add salt, poultry seasoning and pepper tossing the Brussels sprouts to distribute seasonings evenly. Allow the Brussels sprouts to brown, occasionally stirring, about 6-8 minutes (mine took 7 minutes in one large batch). They do not necessarily have to soften completely, as they will cook slightly when you add the liquid.
Once browned, carefully add vinegar and broth to deglaze the pan scraping up the brown bits and quickly stirring to cover Brussels sprouts with liquid. Cook another 2 minutes and stir in cream if using. Top with bacon and hazelnuts and combine thoroughly.
Serve warm.
Notes
A touch of cream gives these vegetables a luxurious mouthfeel, but it all depends on how much fat you've used to determine whether it's necessary or overkill. I recommend tasting them before adding the cream.
Kitchen Nomad http://kitchennomad.com/