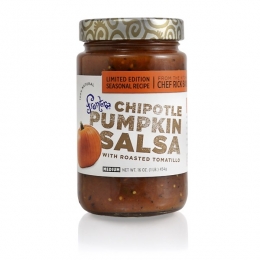 Rick Bayless is nothing short of genius. This isn't breaking news, people. Not only are his restaurants some of my favorites in Chicago and O'Hare International Airport, he has a wonderful PBS show and critically acclaimed cookbooks in case you're not convinced. Now he's created a perfectly smoky pumpkin salsa. I'm officially head over heels for him.
Because I have the best friends ever, one called me from the grocery store to ask if I wanted a jar of Chipotle Pumpkin Salsa and Lime and Sea Salt Tortilla Chips. YES! I love pumpkin anything so I was excited (does that make me like Cinderella?).
Of course, supporting a local chef and his commitment to the environment is good and all that jazz, but honestly this stuff is freaking delicious. I've long been a fan of Frontera's gourmet salsas. Now I'm smitten.
Have you tried the Chipotle Pumpkin Salsa? Let me know in the comments below.