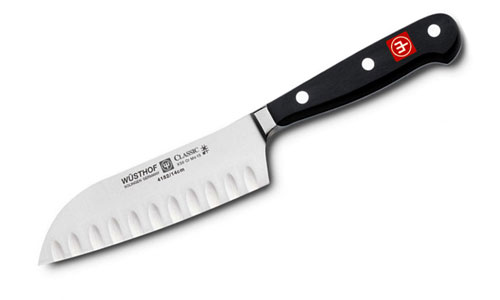 This time of year, I cook more than usual, as I'm sure many home cooks do during the holidays. The biggest favor a friend of mine did was give me this Wüsthof Classic Santoku 5-inch Knife.
See, I have small hands. In fact, they're so small my friends and even my husband make fun of my pudgy knubs. It's okay though, my middle finger works just as well.
While I can nimbly wield a chef's knife in the kitchen like the next person, when I'm cooking for long periods of time, my hand easily tires because most knives are too large and heavy for my elfish hands. However, this Wüsthof Classic Santoku 5-inch Knife is smaller and lighter for the impish like me.
I find that time and again this is the knife I reach for when chopping vegetables, mincing garlic and almost anything else that involves kitchen prep. It suits my hand comfortably so I feel I can control it better than larger counterparts, and that's resulted in no horrible kitchen accidents to date. That's why I've included it in this year's holiday gift guide. Maybe it's the German craftsmanship that makes me nostalgic for my adolescence but possibly it's that somehow it makes me feel like a ninja. Small hands and all.
Have you tried the Wüsthof Classic Santoku 5-inch Knife? Let me know in the comments below.