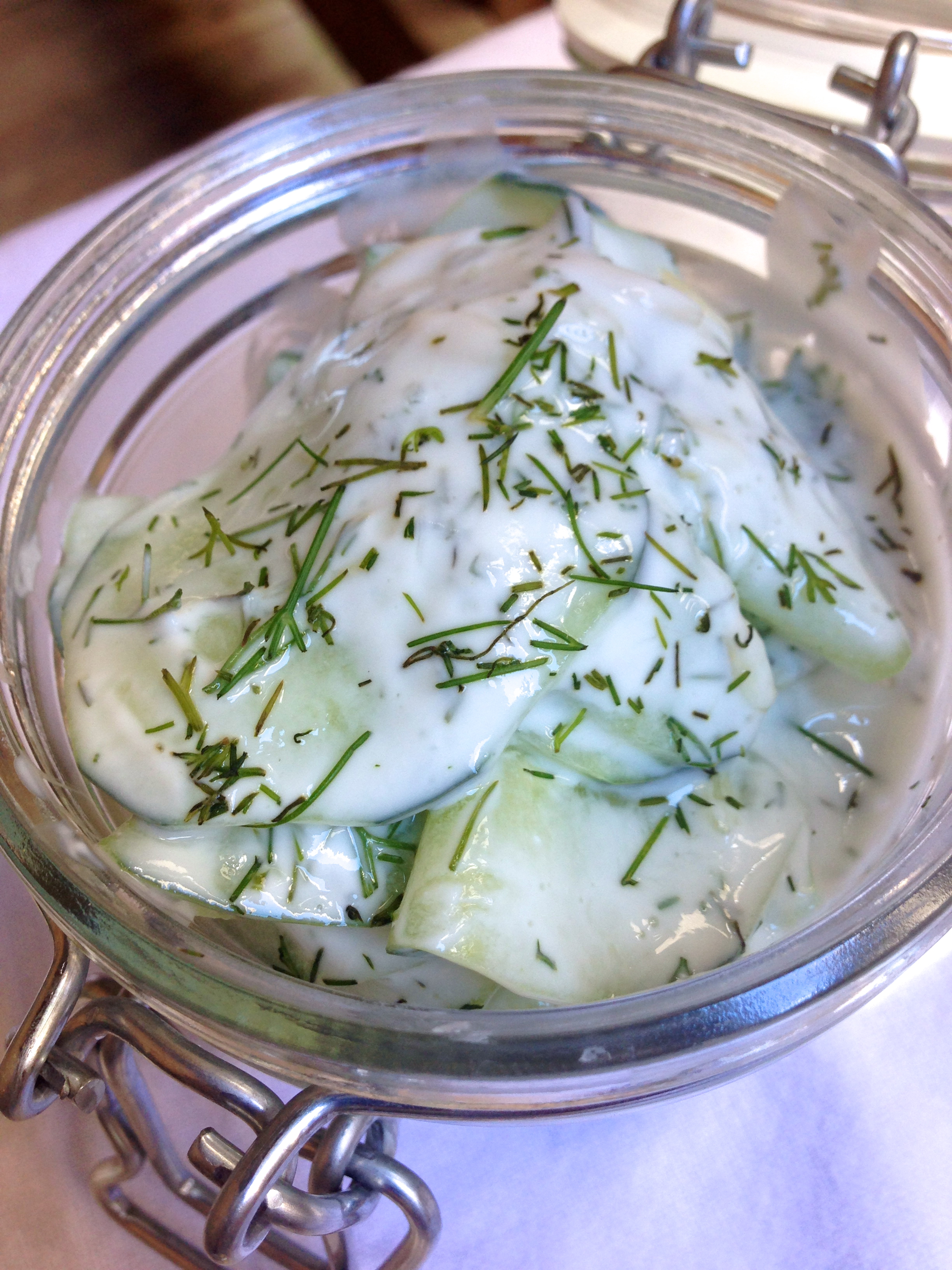 One of my earliest food memories is from age four. It was the first of two times my family lived in Germany. When we arrived overseas, our military housing was unavailable for a few months so we rented an apartment in a small village outside Kitzingen. It was rural by today's standards and removed from American military life.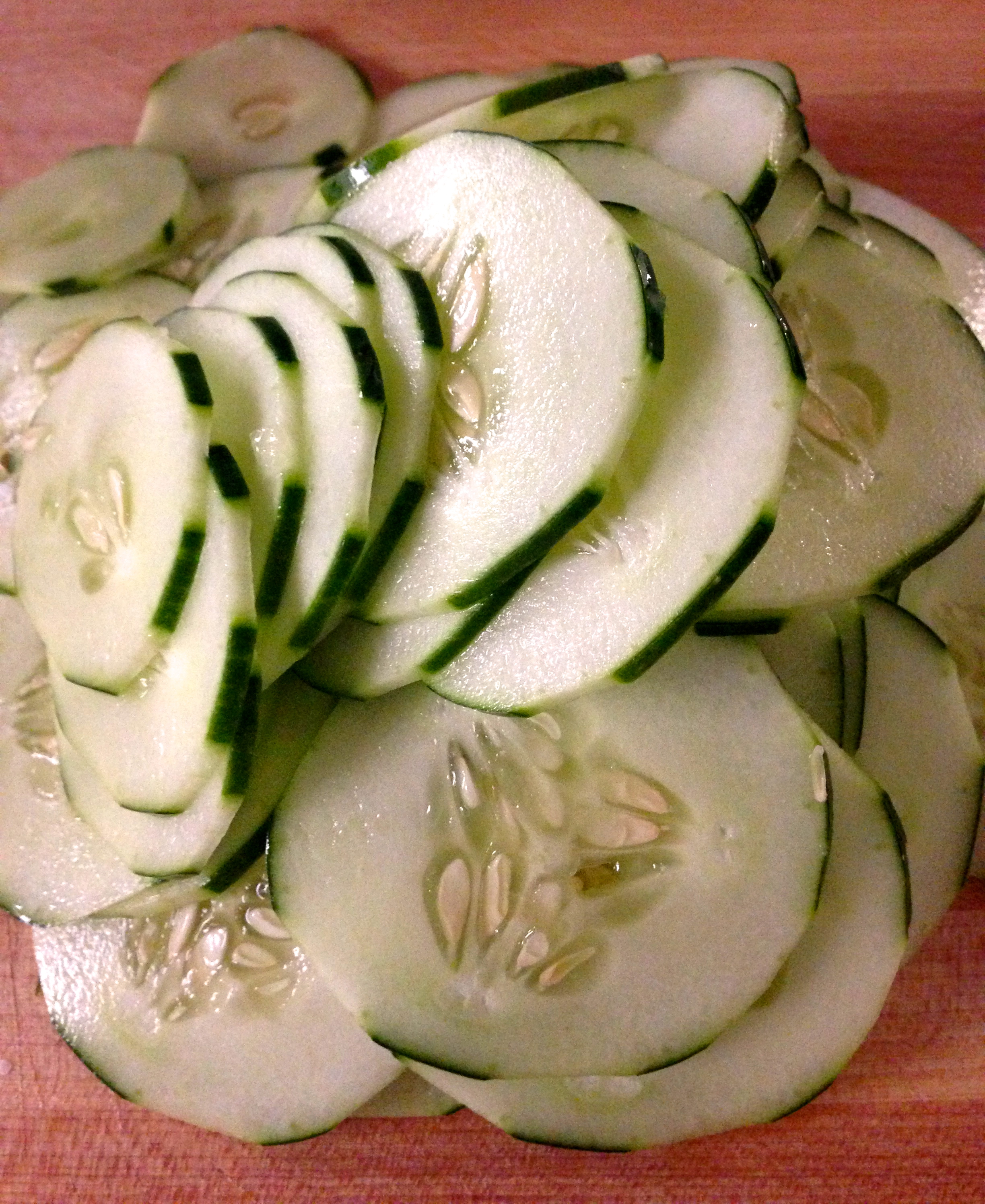 What I remember most was Oma. A kind, elderly lady, Oma owned the three flat where we lived occupying the top floor that was the apartment upstairs from us. Her daughter, Teresa, occupied the bottom floor and worked on a nearby farm. She frequently brought fresh produce home from her job, and we were the benefactors of that perk. Oma and Teresa warmly invited us into Oma's home preparing traditional German fare.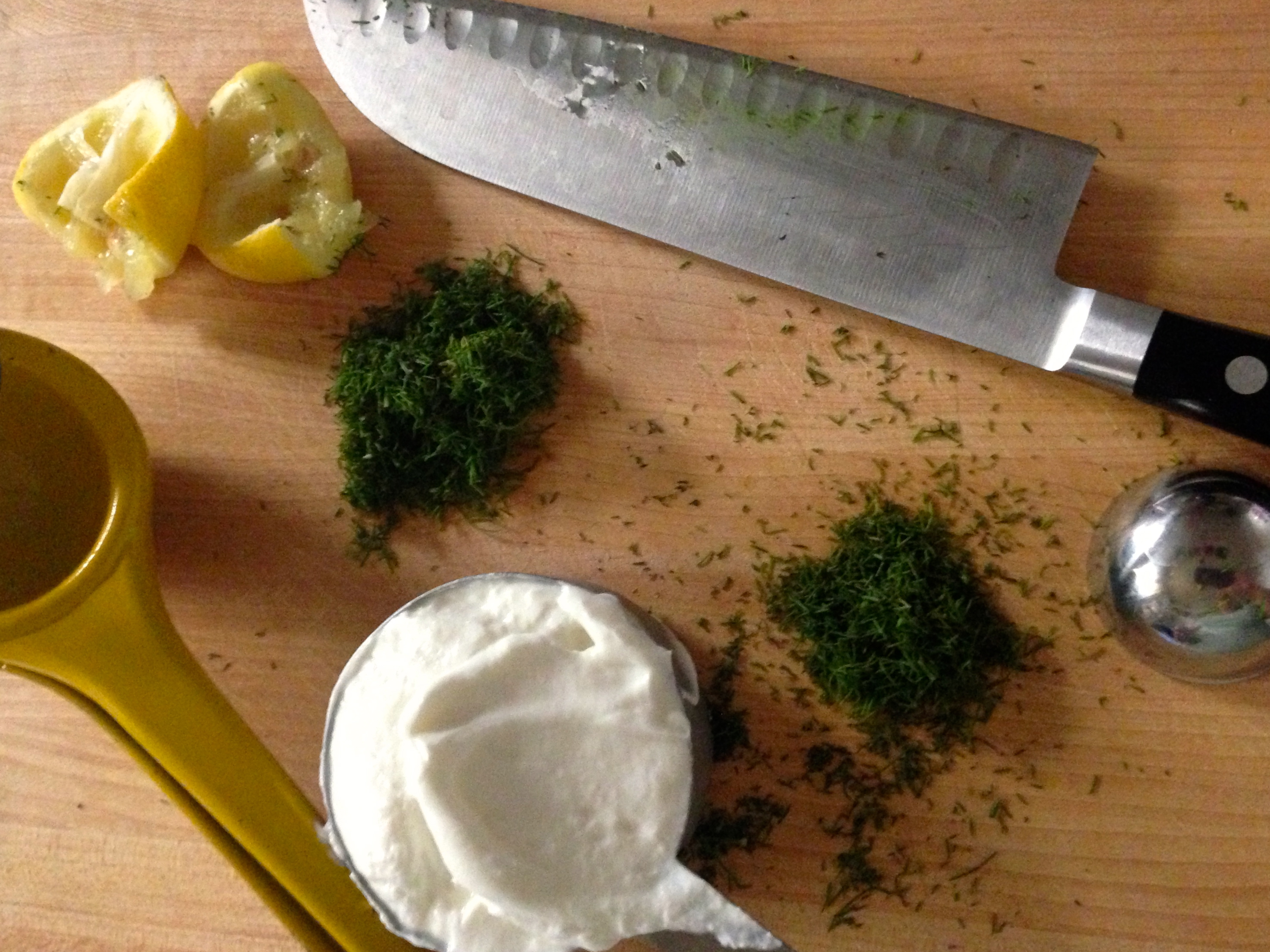 One of those dishes was Gurkensalat, better known as cucumber salad. It was my favorite thing Oma prepared, second only to Erdbeertorte. The cucumbers were sliced so thinly you could see through them. Her salad was decadently creamy from local sour cream yet light. Fresh dill, most likely brought by Teresa, made it delightfully herbaceous. I remember Oma served it in the same porcelain covered, metal bowl. If I walked in and saw that bowl on the table, I knew it was going to be a good meal. Honestly, I could never eat enough of it.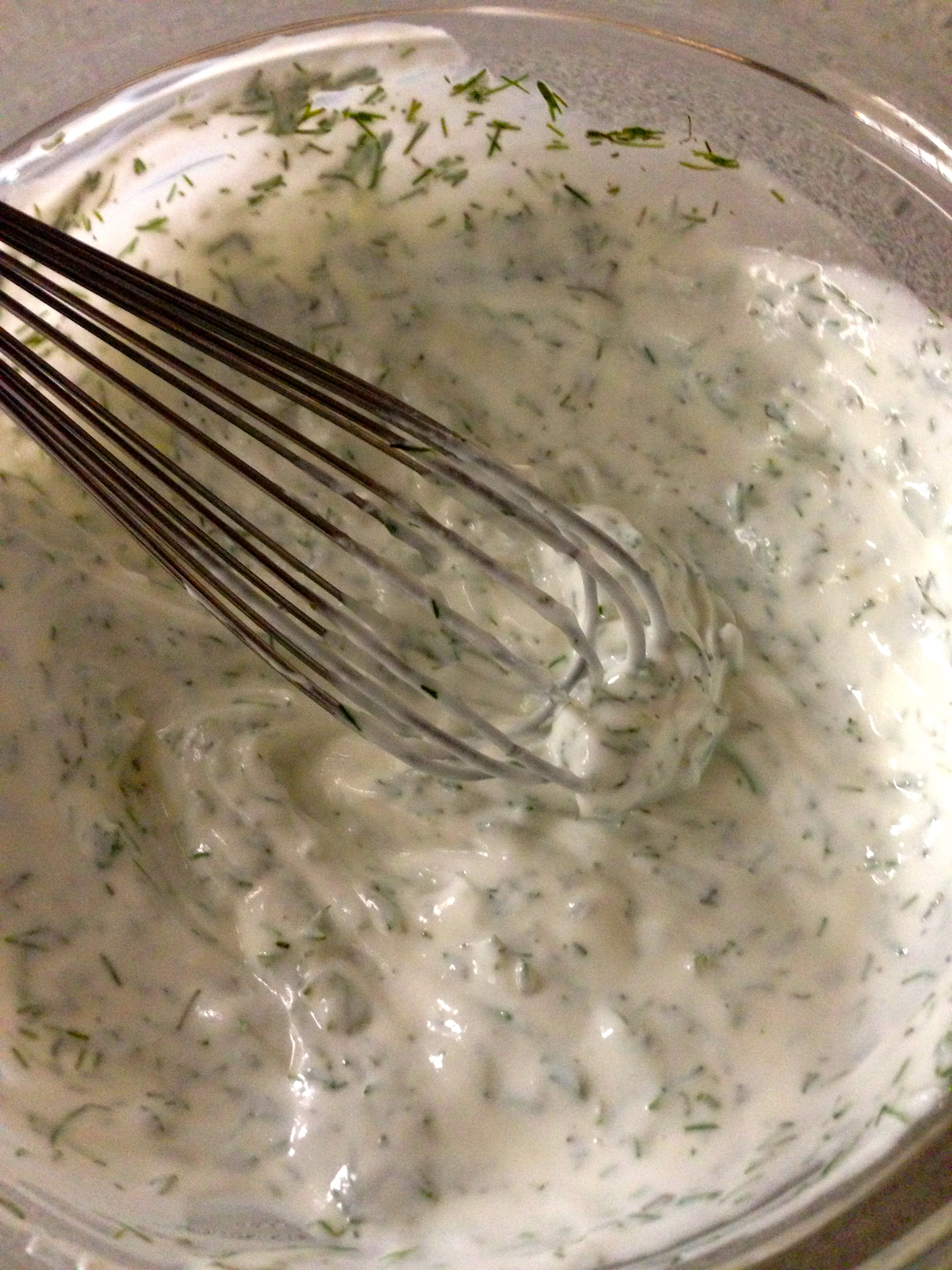 Fast forward a few decades and I find myself craving Oma's cucumber salad especially in the summer. However, last week Chicago was eager to open its doors to welcome in the fall. I resisted despite the rain, chilly temperatures and cool winds. As my friend so eloquently put it, I'm mourning the death of summer. In an effort to show my defiance, I made the cucumber salad before the official season change. It was my subtle way of telling autumn I'm not ready. Guess autumn took a hint…it's a pleasant 70°F today.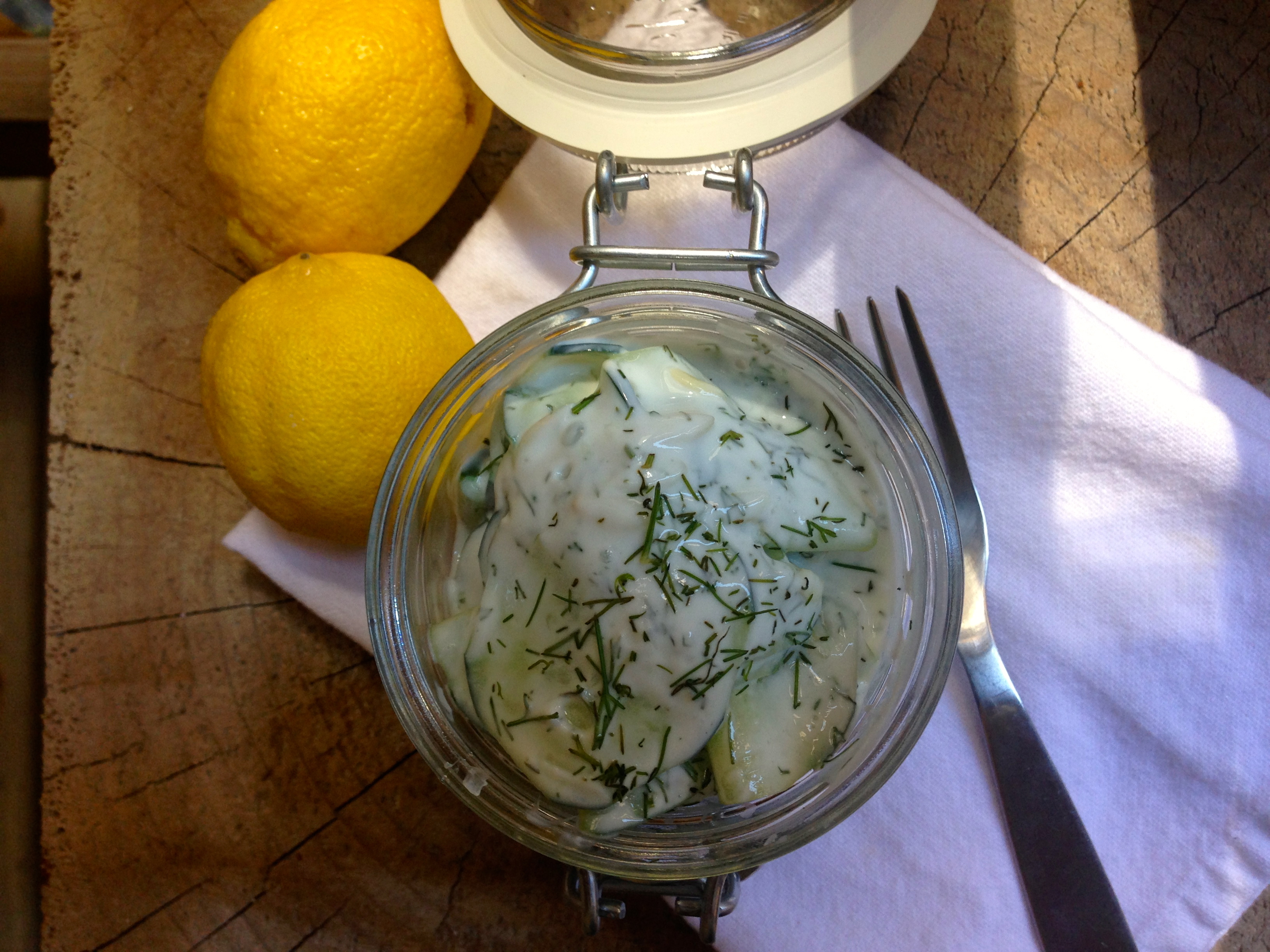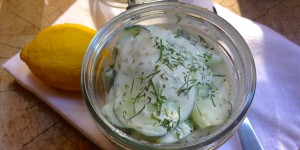 German Cucumber Salad
2013-09-24 23:34:49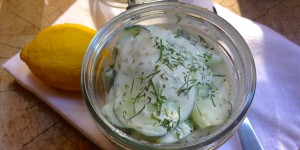 This creamy, herbaceous salad is best during summer but can easily be enjoyed year-round. For a more piquant flavor, substitute apple cider vinegar for the lemon juice.
Ingredients
1 medium cucumber, very thinly sliced
2 teaspoons kosher salt
1 tablespoon freshly squeezed lemon juice or white vinegar
½ cup sour cream or Greek yogurt
White pepper, to taste
2 tablespoons chopped dill
Instructions
In a large strainer placed over a bowl, layer half the cucumber slices and sprinkle 1 tablespoon of salt over the slices. Layer the remaining cucumber slices and salt and let stand for 30 minutes. After 30 minutes, rotate the slices and let sit another 15 minutes.
While cucumber is draining, in a medium, non-reactive bowl, whisk together lemon juice, sour cream and white pepper until combined. Fold in chopped dill.
With a wooden spoon, press lightly on cucumber slices to extract any excess liquid. Transfer cucumber to the bowl and combine with cream dressing. Taste for seasoning and adjust accordingly.
Chill salad for 30 minutes and serve cold. Can be made 1 day in advance.
Kitchen Nomad http://kitchennomad.com/