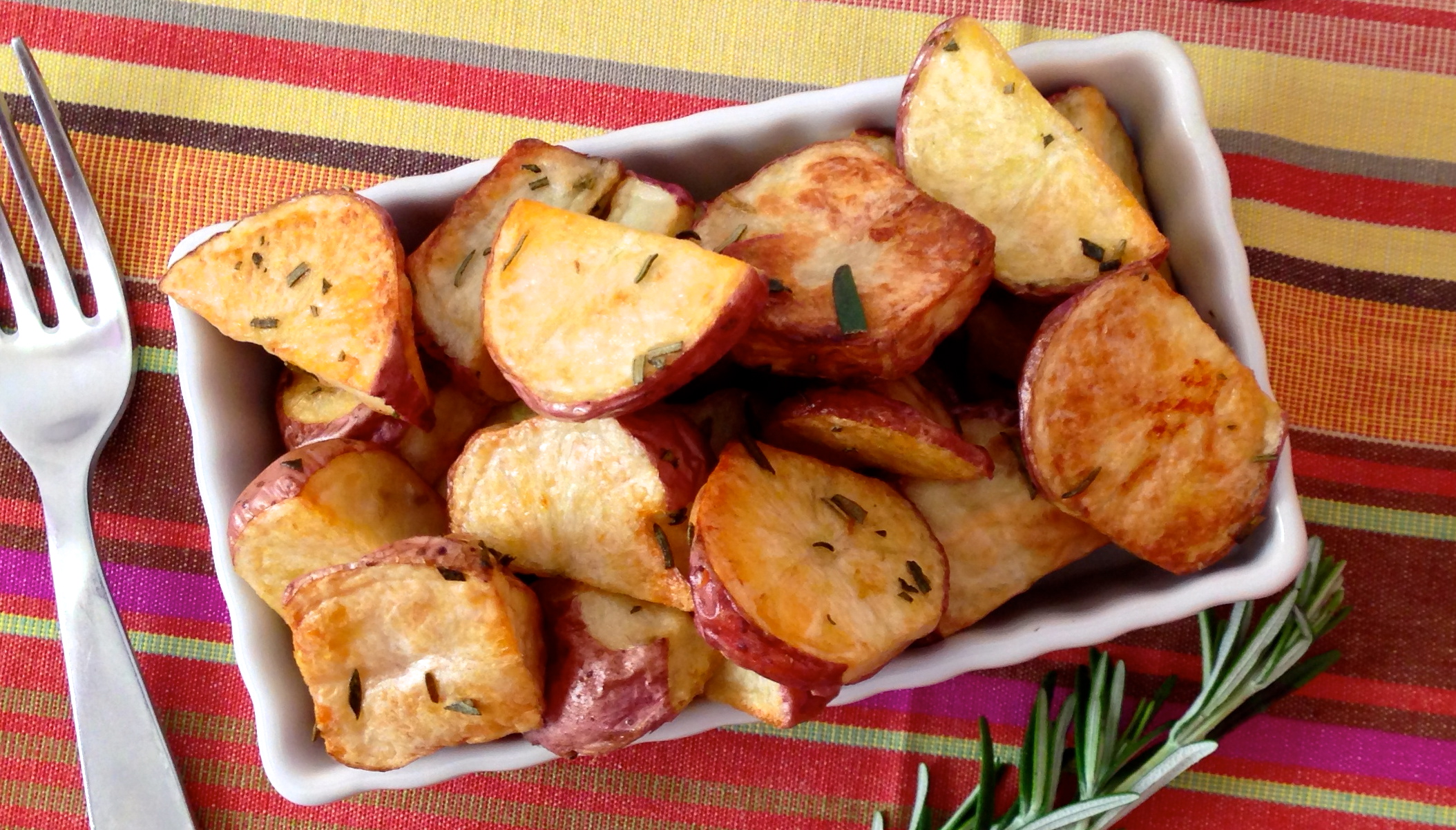 I was Irish in another life. Either that or there's some Irish blood in my lineage my family's unaware exists. I say that because I've always preferred potatoes to any other starch. Now that might not seem earth shattering, but as a Puerto Rican I risk having my heritage stripped away for favoring potatoes in lieu of rice.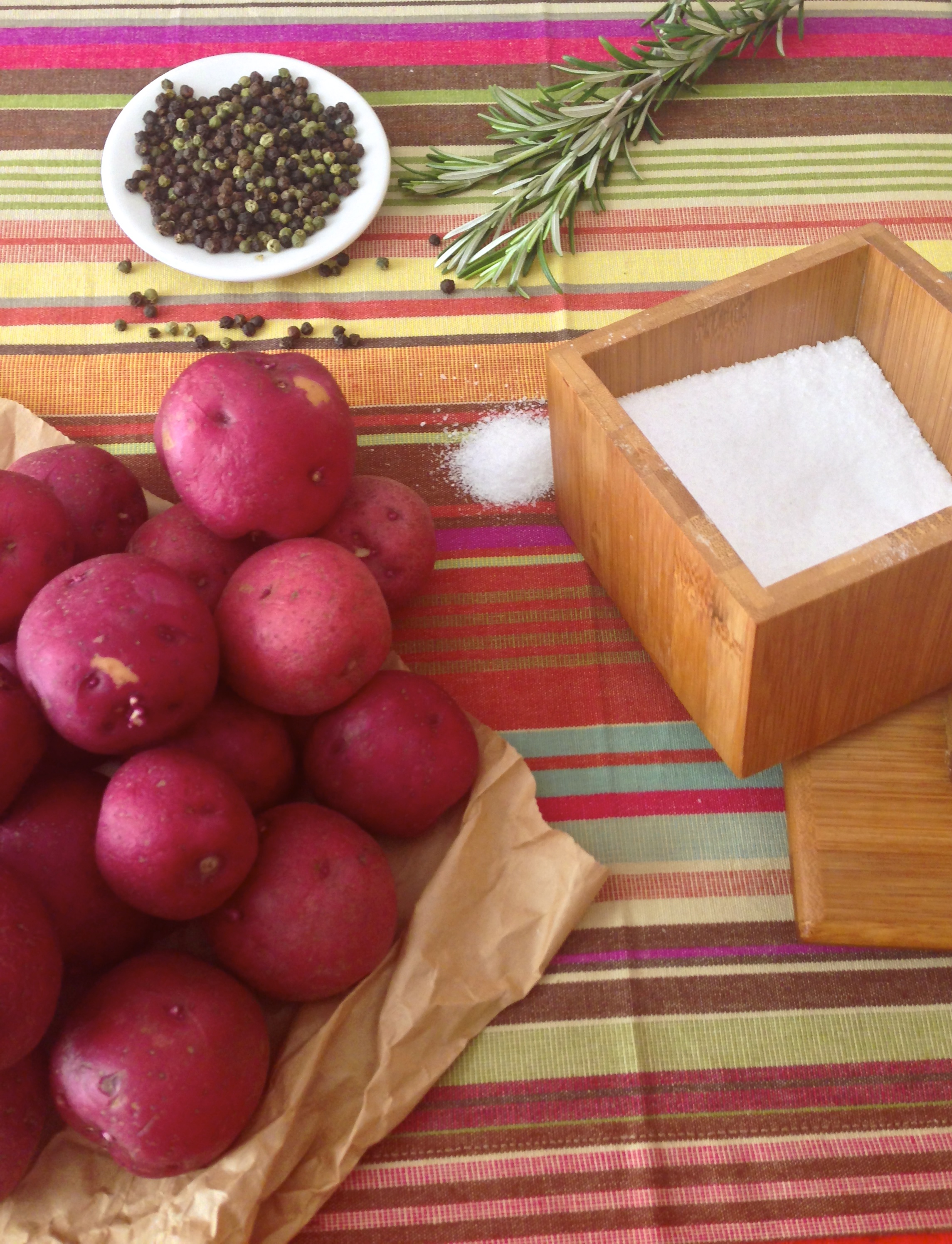 My affinity for this tuber probably explains why Thanksgiving is my favorite holiday above all others. In my book, are there any other holidays? Thanksgiving is about the food, and that's what I'm about. Once you get past the Rockwellian turkey, it's the sides that everyone cares about. For me, potatoes top the list of side dishes I look forward to on Thanksgiving. If there were no other accompaniments to the turkey aside from potatoes, I'd be perfectly fine with it.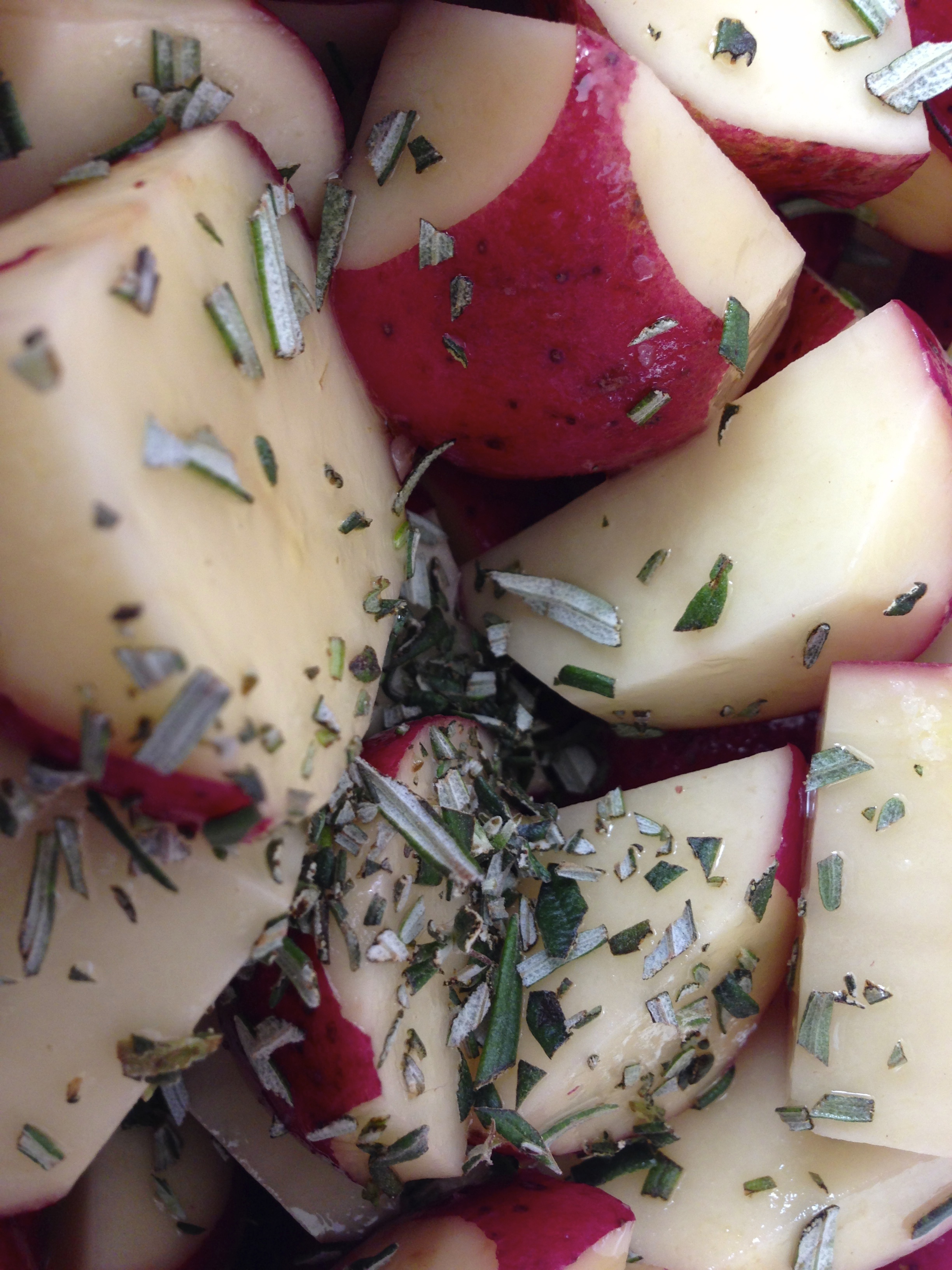 While I adore mashed potatoes, actually I like potatoes in any preparation, sometimes it's easier to roast some potatoes alongside the turkey. Even if rosemary roasted potatoes aren't on your Thanksgiving menu, they are so easy to make you might laugh that I'm calling this a recipe. But, I'll have you know I taught a seven-year-old boy how to make these, and he loved them. So there!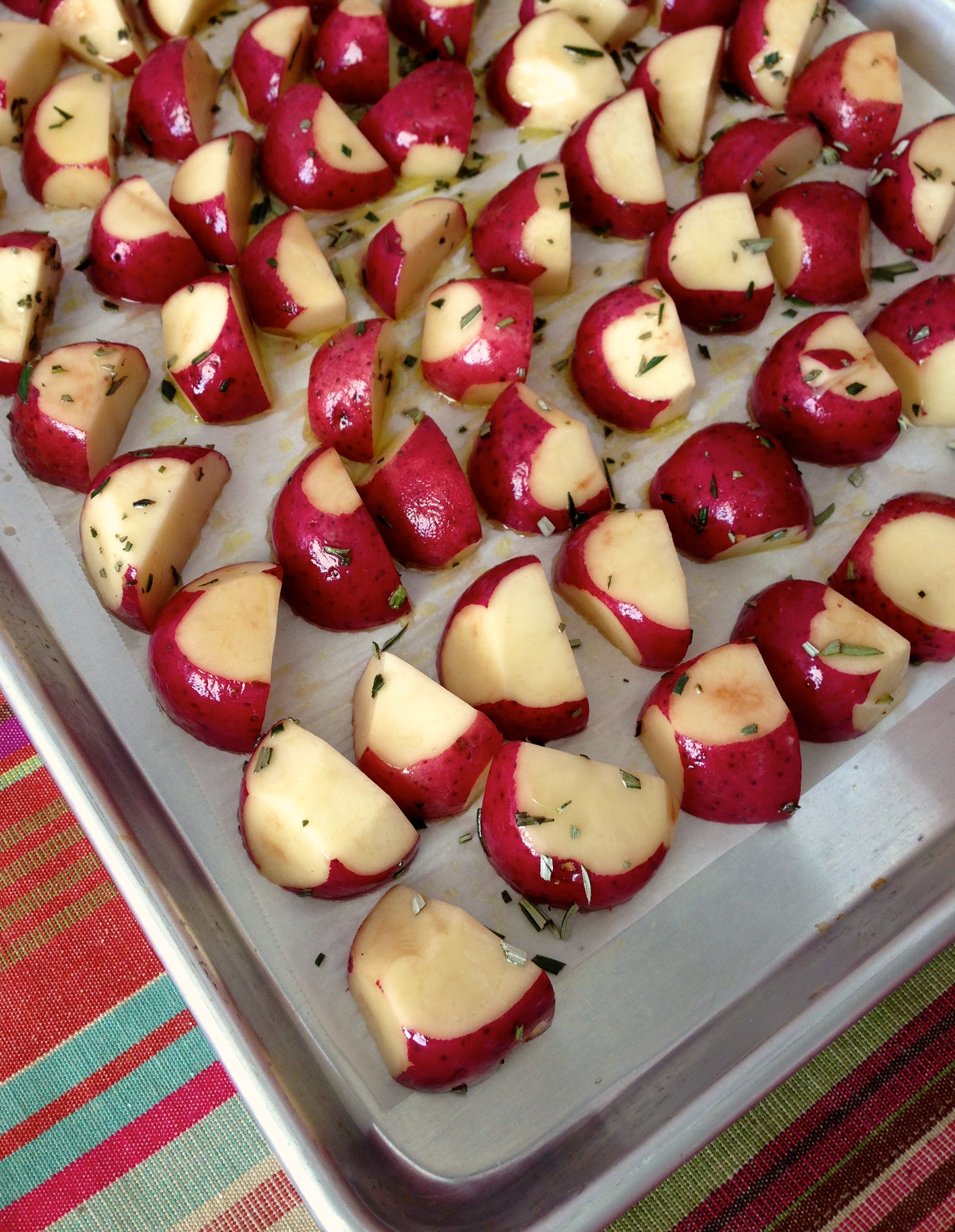 Now go whip these up…because even a seven-year-old can do it.
Happy Thanksgiving!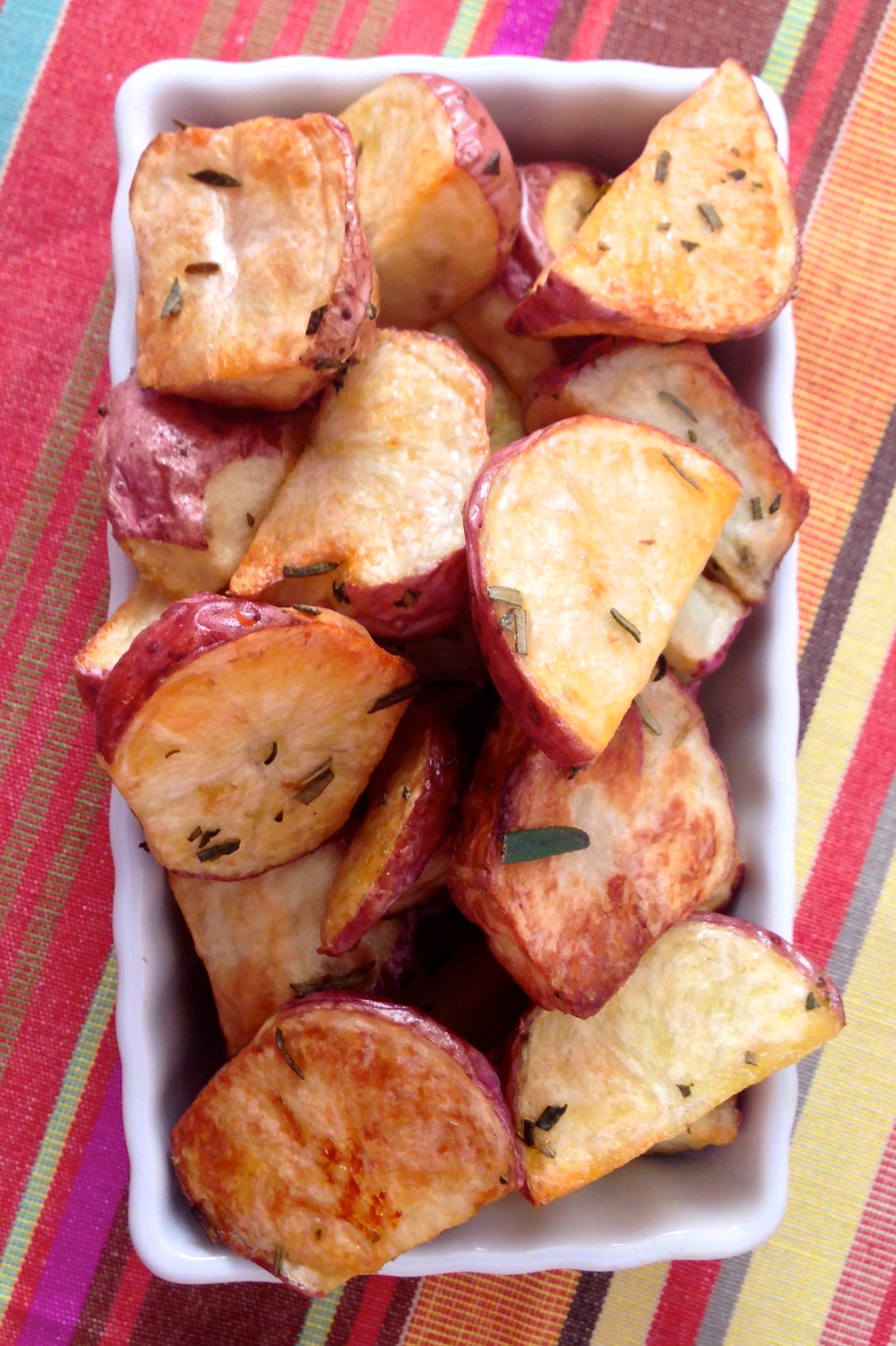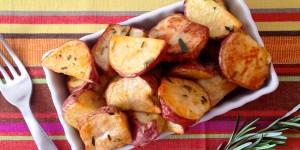 Rosemary Roasted Potatoes
2013-11-19 21:06:49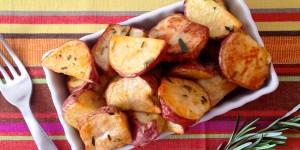 Ingredients
2 ½ pounds small red potatoes, scrubbed clean and dried (mine came to 18 potatoes on the larger side)
1 ½ tablespoon extra-virgin olive oil
1 teaspoon kosher salt
1 tablespoon chopped fresh rosemary
Freshly ground pepper, to taste
Instructions
Preheat oven to 425° and line a large baking sheet with parchment paper or aluminum foil, unless you like to scrub pans. I prefer parchment for the browning it allows.
Cut potatoes in half (if they are small) or into quarters (if they are large) for roughly uniform sizes. Mine were about 2 inches when cut.
In a large bowl, combine potatoes, olive oil, salt, rosemary and pepper. Toss to coat potatoes evenly. Pour mixture onto prepared baking sheet arranging potatoes in a single layer, cut side down. This will ensure the potatoes do not steam and brown beautifully.
Roast for 40-45 minutes (turning halfway through cooking if you're not as lazy as I am and care for all sides to brown) until fork tender. Remove from oven and let rest 5 minutes so you don't burn your mouth.
Serve warm and enjoy!
Notes
I highly recommend using fresh rosemary instead of dried. Dried rosemary is more potent and can take on a pine-flavor akin to that well known cleaner if used in large amounts.
Any starchy potato works well in this recipe. I've made these with Yukon gold, fingerling and small white potatoes; they all work.
If you use a dark baking sheet, your potatoes may brown more quickly as dark attracts light, so keep an eye on those babies.
Kitchen Nomad http://kitchennomad.com/