My Esposito has come a long way in his cooking, and as I mentioned previously he can now cook a lot of dishes on his own. Because we are both the eldest children in our families we're used to being the boss and that leads to ignoring my instructions in the kitchen sometimes. While I try to control everything, I realize I can't control his cooking because let's face it, he's a grown man. Just as I loathe being bossed around, so does he. I still look over his shoulder every now and then offering advice, but I've learned he listens more to disaster than his wife.
He's prided himself on perfecting an awesome potato gratin recipe years ago, so when I asked if he had any interest in making domino potatoes, he thought it would be far easier. I told him to read the recipe, make sure he understood it and ask me any questions if he didn't.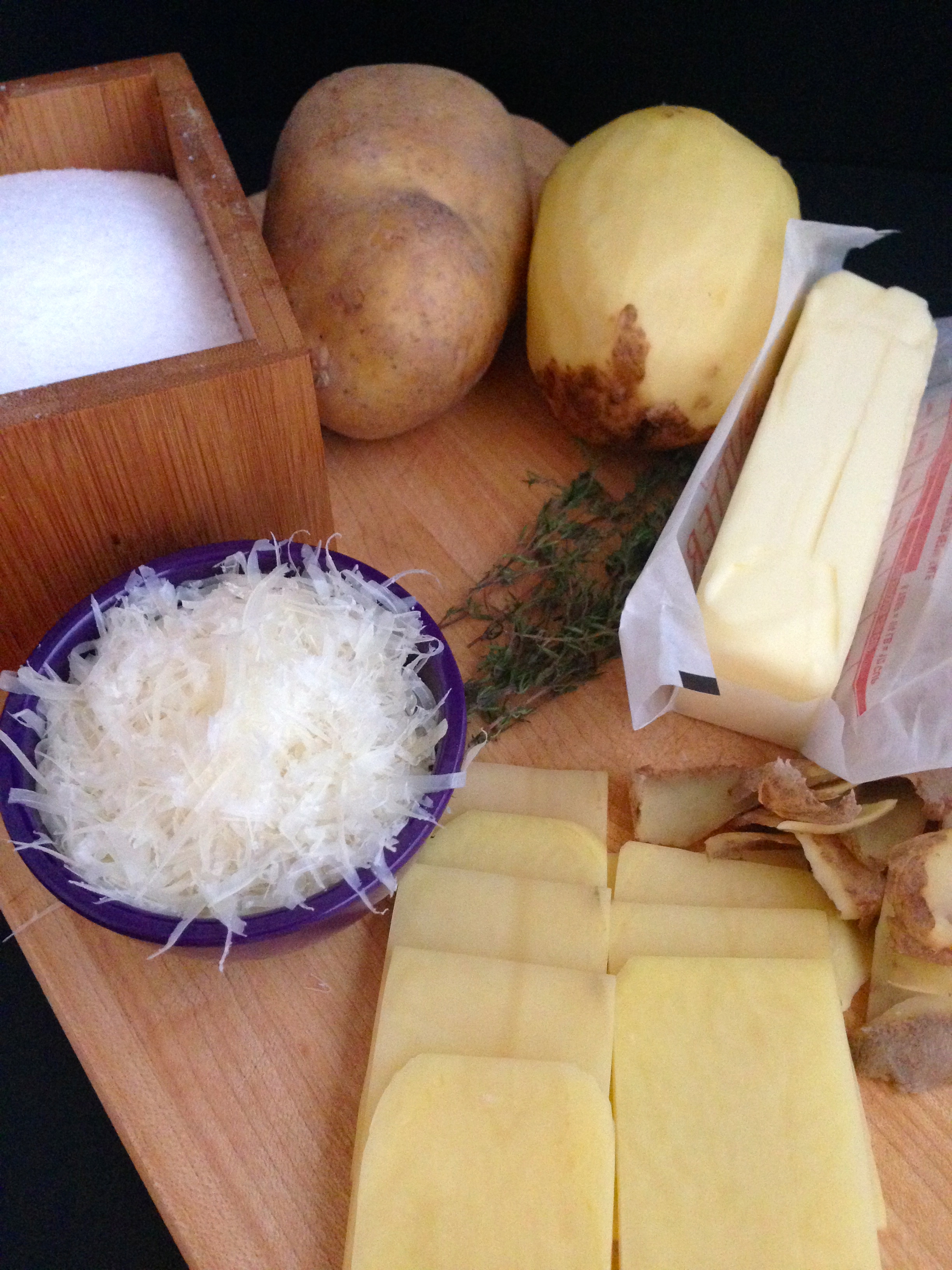 After reading the recipe once, he set about preparing the ingredients. I secretly preheated the oven because he didn't think to. After he sliced the potatoes and meticulously arranged them on the baking sheet like little soldiers (did I mention he was in the military?), he asked me when the butter was supposed to be added as he sprinkled cheese over half of them. I glanced at the recipe (by now nearly memorized because it's only 7 lines of instructions) and pointed to the second line while asking if he'd tossed all the ingredients together in a bowl including the butter. He looked at me like a kid whose sandcastle's been smashed by an older sibling. He cursed and picked up the potatoes placing them into a bowl. I asked if he'd read the recipe, and he said yes but thought he'd just sprinkled all the ingredients over the potatoes. My interpretation: he read the ingredient list, looked at the picture and thought he'd wing it.
I explained that while it wasn't the biggest deal to do it that way, the potatoes wouldn't be evenly coated with seasoning so each bite tasted good or butter to help them cook through in the middle and crisp the edges. It wasn't a disaster, but given this was the first time he was making this recipe following the instructions was probably a good idea.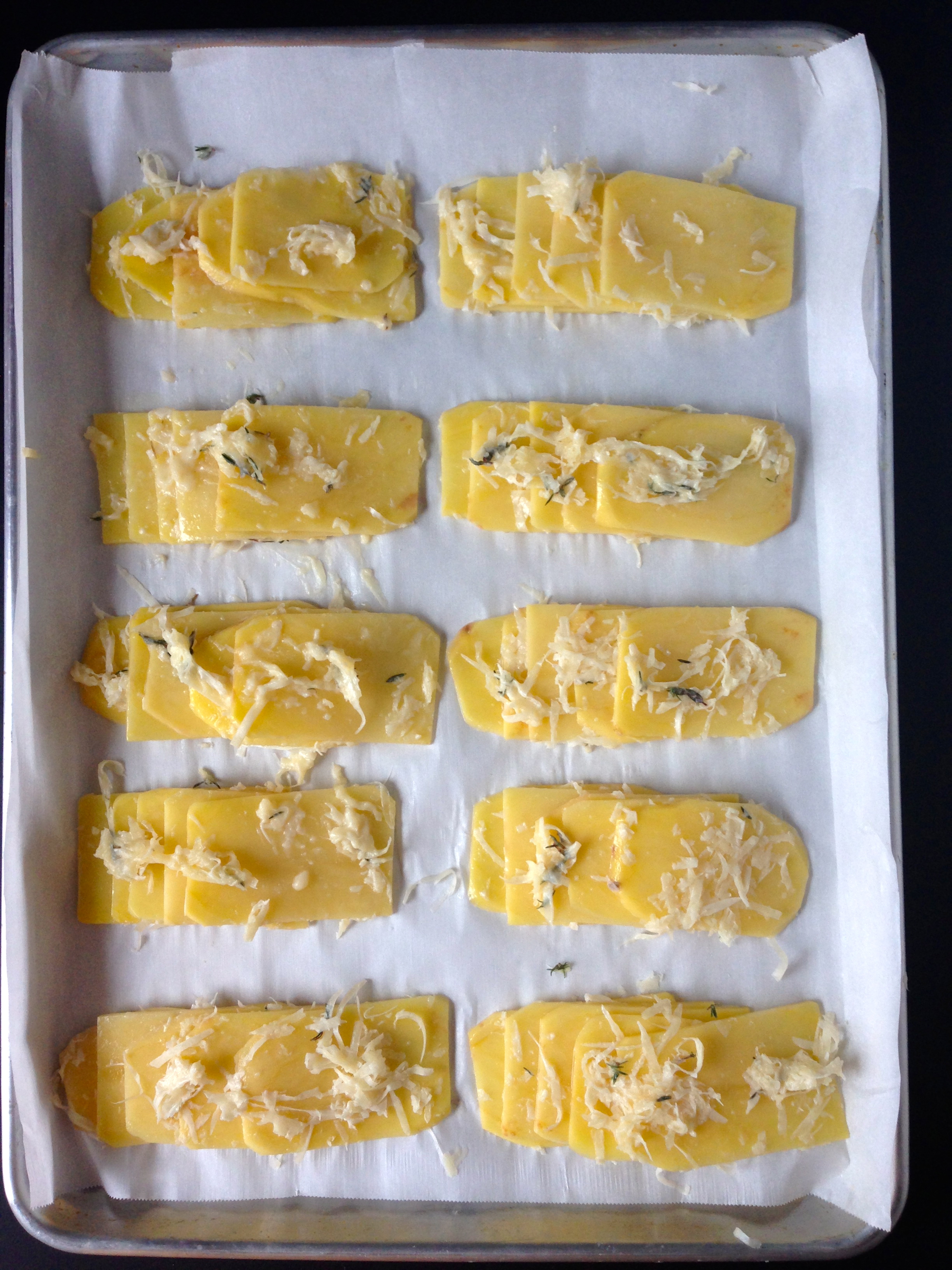 After he tossed the potatoes and once again carefully positioned each domino stack, I reiterated the importance of reading a recipe and understanding each step before cooking. He grumbled under his breath and continued to work. While the end result was delicious new potato recipe that he's added to his repertoire, the discussion gave me the idea to write a blog post about reading recipes.
There aren't any tricks, but there are tips.
1. Read the recipe from beginning to end before you start cooking, read it again and then once more.
Have you ever started making a recipe only to realize it needs to chill overnight, cook for several hours or requires special equipment you don't have? Sometimes it takes failing to learn a hard lesson, but I'm hoping I can spare you this one. Read your recipe carefully and all the way through to the end before you start taking out ingredients and equipment.
Recipes are roadmaps that, when well-written, lay out each step in a logical manner with clear instructions indicating the techniques and tools you need to use.
Whipping egg whites in one bowl while creaming egg yolks with sugar in another will be detailed so you can prepare the ingredients (e.g., separate the eggs) and tools (e.g., 2 bowls) for both. Also, water is not typically listed in the ingredient list, but if you're in the middle of a recipe and need a cup of boiling water, it's best to have it ready. The recipe may also instruct you to use only half or a portion of an ingredient but if you haven't read it, you may end up using the entire amount incorrectly. Finally, you don't want to start a recipe you need today only to discover you can't finish it because it needs to set for 8 hours.
Reading the recipe once to get an idea of what you'll need to do, a second time to note the ingredients and tools you'll need, and a third time to ensure you haven't missed anything will be your roadmap to success.
2. Note the order in which you'll use the ingredients.
Most recipes list ingredients in the order they are used. At least well-written recipes do so. Why does this matter? As in the example above, if you need to separate eggs but use them at different times, that's key. The ingredients list also helps you with mise en place or preparing all your ingredients before you start cooking so they are measured, easily accessible and ready to use. It also helps to go through it and make sure you have every ingredient. The ingredient list is made to help you so pay attention!
3. Understand the ingredient amounts correctly and prepare them accordingly.
Speaking of ingredients, do you know the difference between these two measurements:
4 tablespoons unsalted butter, melted
4 tablespoons melted butter?
The first requires that you measure 4 tablespoons of butter first then melt it. The second is the measurement of 4 tablespoons of butter already melted. Those are different amounts. If you make the mistake of ignoring the comma and understanding the measurement correctly, your entire recipe could be off, especially in baking. Also, be sure to note if ingredients are cold, at room temperature, softened, boiling or iced. These descriptions are important for your recipe to be successful.
4. Gather your equipment and tools.
Have you ever read a recipe (like the one below) and thought you were missing a key piece of equipment like a mandolin, juicer, food processor, food mill or blender? Some of these are easily substituted but others will require that specific equipment or MacGyver like skills. Make sure your equipment is clean, connected and ready to use.
Also, note the number of bowls or spatulas you'll need and gather them. Any cooking tool like a sieve should be easily within reach, too. Ensure you have what the recipe calls for or a substitute and that you know how to use it.
5. Preheat!
This tip is one many home cooks I've encountered ignore or do incorrectly. After reading your recipe, the first thing to do is preheat your oven, unless otherwise instructed in the recipe to start in a cold oven. I recommend investing in an oven thermometer to correctly gauge the temperature, as your oven is likely to be off. Allow at least 15 minutes to preheat, but that may vary depending on your oven. Your oven should reach the full temperature before you even think of placing your food in there.
Preheating your oven is crucial to cooking food evenly, browning food and believe it or not cooking your food faster. It is particularly vital when baking to preheat your oven because you're likely using leavening agents (e.g., baking soda, baking powder, yeast) that react to heat and your food will not rise properly in a cool oven.
A lot of these lessons I've learned in the kitchen school of hard knocks. I hope you'll find these useful and listen to me, even if I'm bossy.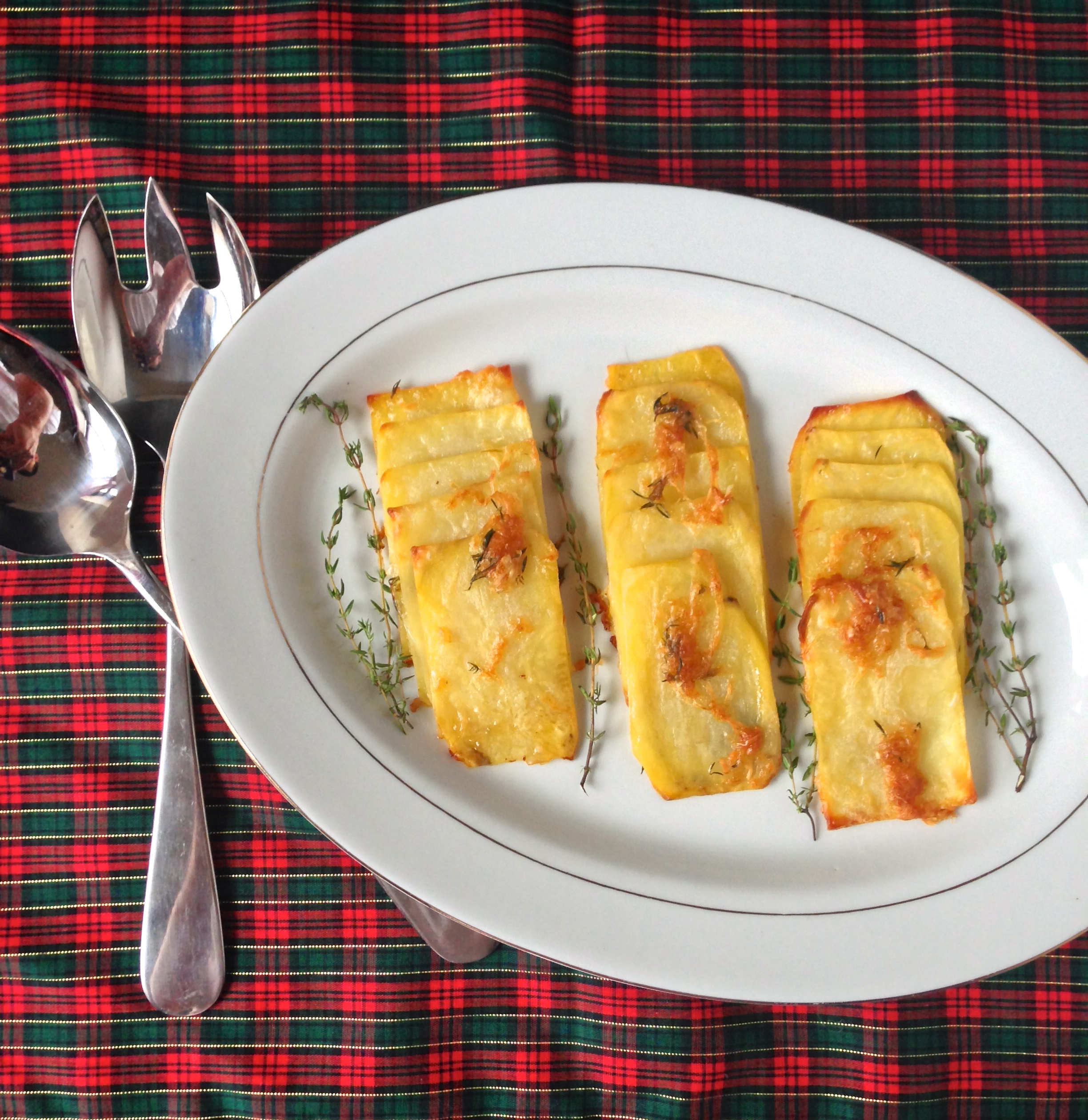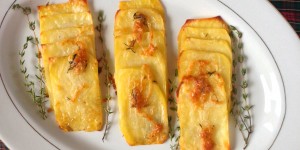 Domino Potatoes
2013-12-17 20:41:31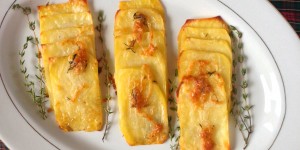 Serves 4
Ingredients
2 pounds large starchy potatoes, peeled and sliced thinly (we used about 7 of these)
4 tablespoons unsalted butter, melted
½ cup finely grated Gruyère
4 sprigs fresh thyme, leaves removed
Kosher salt, to taste
Freshly ground pepper, to taste
Instructions
Preheat oven to 400° F. It's essential the oven is piping hot when you first place the potatoes in the oven to crisp them so do not skip preheating. Line a large, rimmed baking sheet with parchment paper, unless you like to scrub pans.
Peel potatoes, trim the ends and all 4 sides to resemble a rectangle. The potatoes should lay flat against your cutting surface. Slice potatoes thinly into 3-inch by 2-inch rectangles using a mandoline or sharp knife.
In a large bowl toss potato slices with butter, cheese, salt and thyme to coat evenly. Working with 5-6 potato slices at a time, stack them on the baking sheet and carefully fan them apart overlapping each potato by ¼ inch. Repeat with remaining potatoes.
Bake potatoes for about 15 minutes rotating the baking sheet and cook for another 10-15 minutes until potato centers are tender, golden and edges are crisp. Serve hot.
Adapted from Donna Hay Magazine
Kitchen Nomad http://kitchennomad.com/