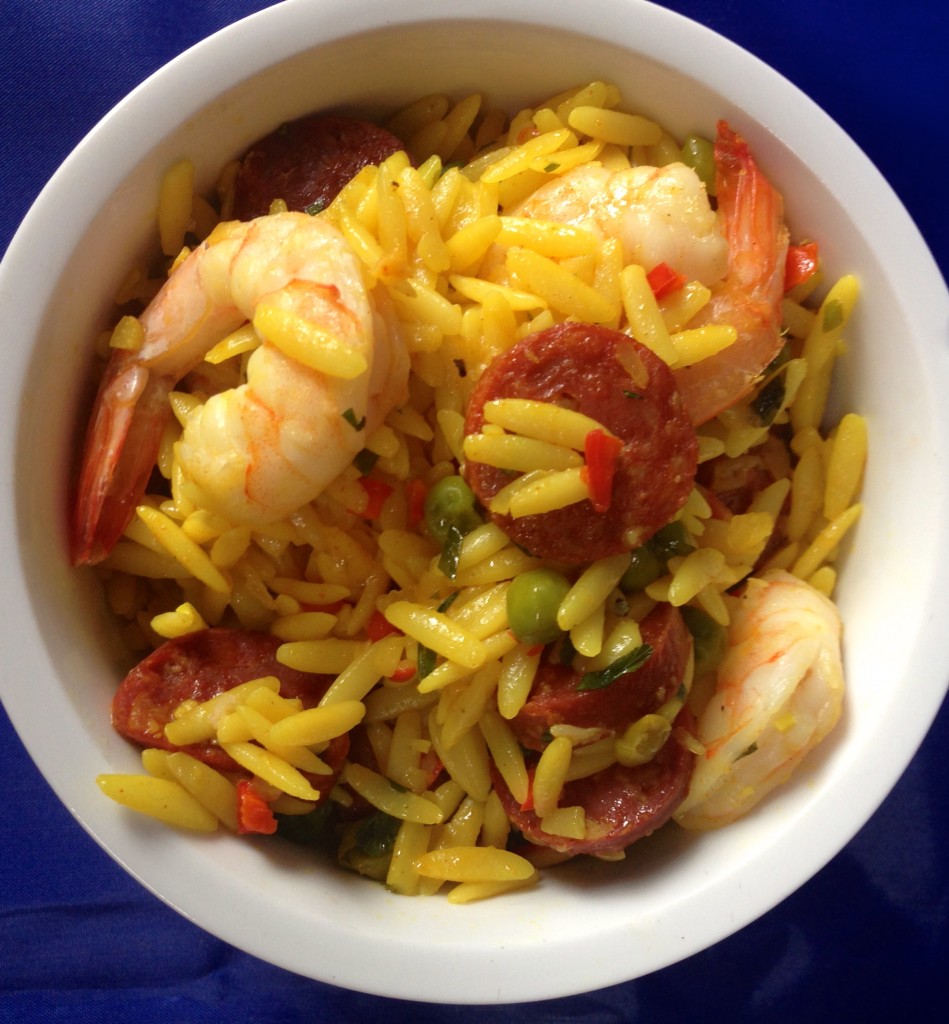 You've likely heard of Rachael Ray, and you probably have an opinion about her. I know I did, and I admit it changed over the three years in which I taught my husband how to cook.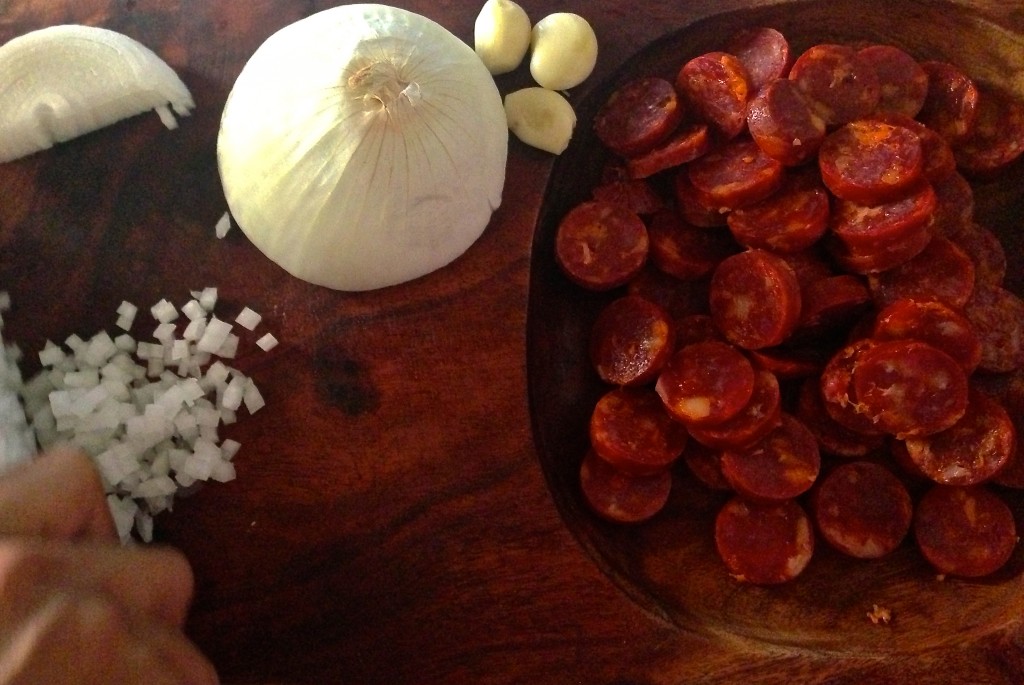 My husband, who I affectionately refer to as Papi, is a native Colombian. He didn't grow up cooking like I did, and English is his second language. Those were obstacles in a home abounding with English language cookbooks and magazines.
During our time in Mexico City, cooking duties fell to him due to my job and his lack thereof. He had to learn quickly, and I had to figure out a way to stop multiple phone calls asking me questions like, "Mami, what's sauté-ED?"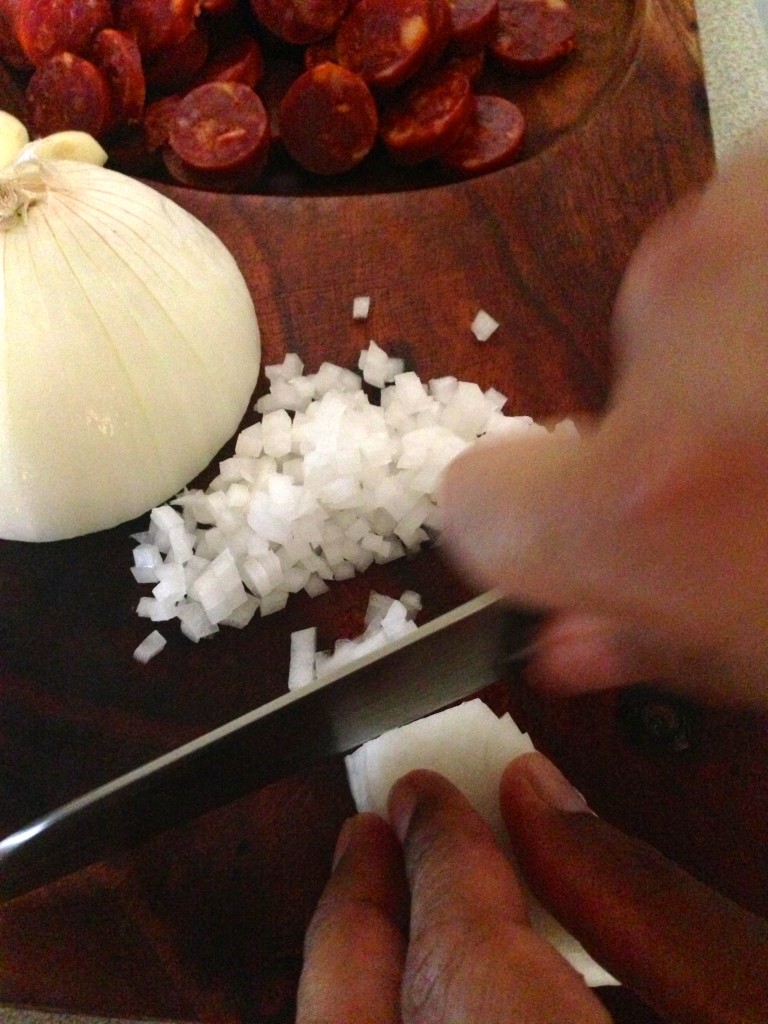 That's where Rachael Ray came in. Of the few American shows available to us, "The Rachael Ray Show" aired every evening just as I arrived home. We had an unofficial ritual of sitting down and watching the show while I unwound from the long day. Papi would see a dish he liked and frantically jot down the instructions and ingredients in Spanish so he could replicate it. I would then print out the recipe in English to ensure he'd captured all the steps and have a roadmap in case he didn't. Then there came a step-by-step explanation by me to answer all his questions. This was before DVRs and smartphones were staples in our lives.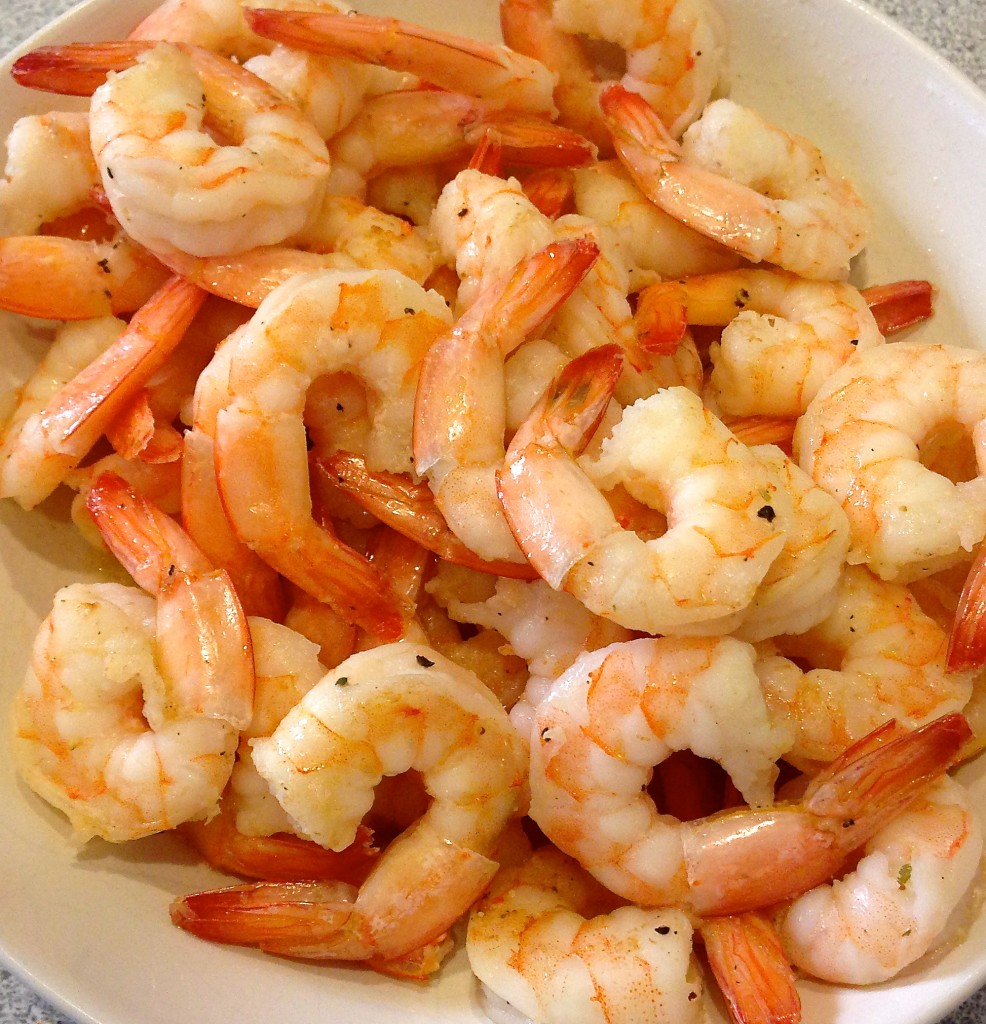 Rachael Ray explained her recipes in an understandable way that didn't intimidate Papi. In fact, he didn't fear her recipes; he was eager to try them because she made them appear easy.
One day I saw her make Sunset Orzo with Spanish Shrimp and mentioned how tasty it looked. By this point, Papi had been cooking dinner three to four nights a week for two years, so he had some experience under his belt. Unbeknownst to me, he made a plan to shop for ingredients and make the orzo. One night, I entered the apartment to an aroma of saffron pleasantly surprised he'd made the orzo. As I sat down to eat it, I was impressed. I thought, he's finally really learned to cook without my help. I wasn't even jealous there was another woman involved – Rachael.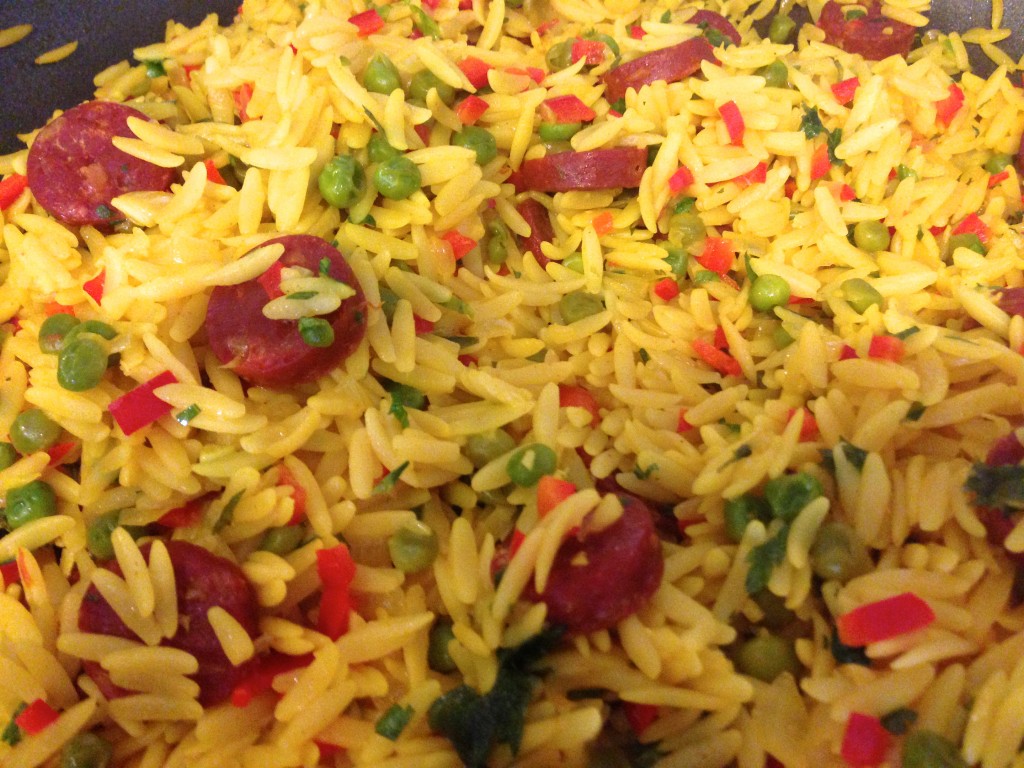 Today, I'm introducing an occasional series on how I taught my husband to cook titled, what else but Teaching Papi. Future posts will detail cooking fundamentals that I took for granted as a lifelong home cook. I'll discuss techniques, recommend tools and feature recipes to make a novice comfortable in the kitchen. If I could teach Papi how to cook, then anyone can not only learn but also thrive!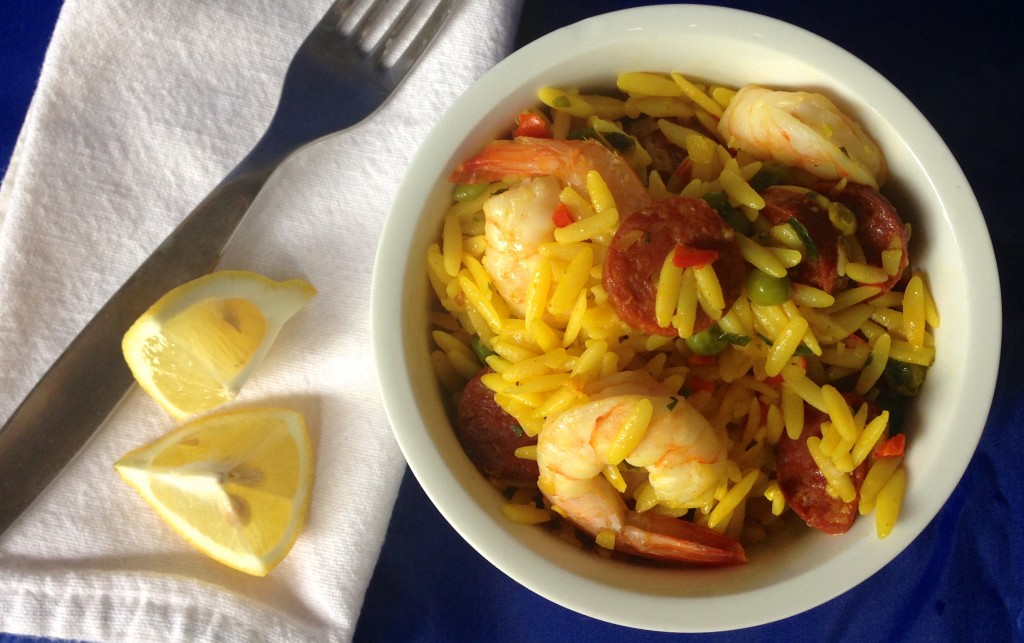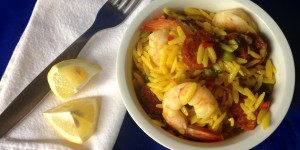 Saffron Orzo
2013-10-15 19:51:18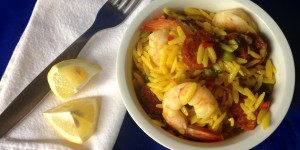 Serves 4
This orzo has become a staple in our dinner repertoire because it's like a simpler version of paella. On occasion, we've substituted chicken or scallops, and it always turns out well. However, don't skip the saffron it adds depth of flavor unattainable by anything else.
Ingredients
Kosher salt
10 ounces dried orzo pasta
2 pinches saffron threads
1 cup chicken broth
Pepper to taste
2 tablespoons extra-virgin olive oil
1 pound large shelled and deveined shrimp (we use shell on for more flavor)
½ pound Spanish chorizo (not Mexican), cut into ¼ inch slices
1 white onion, finely diced
1 small red bell pepper, finely diced
2 cloves garlic, finely minced
1/3 cup frozen green peas
¼ cup chopped flat-leaf (Italian) parsley
1 teaspoon sweet paprika
1 lemon, sliced in half
Instructions
Bring a large pot of salted water (to taste like the sea) to a boil over high heat. Cook orzo over boiling water according to package instructions for al dente, about 8 – 10 minutes. Drain and set aside.
Meanwhile, in a small saucepan, steep saffron threads in the chicken broth over low heat.
Lightly season shrimp with salt and pepper. Remember the chorizo and chicken broth are salty.
Heat a large skillet over medium-high heat for 2 minutes or until hot. Add olive oil dispersing evenly in pan, cook shrimp until just pink but not entirely cooked through, about 1 minute per side. Remove shrimp from heat and lower skillet to medium heat.
Add chorizo to skillet and brown for 2 minutes, careful to not overcook or it will become crunchy. Add the onion and bell pepper, sautéing for a few minutes until onion is translucent and bell pepper is soft. Then add garlic and stir for 30 seconds until fragrant. Stir in peas and pour the saffron broth over the chorizo and vegetables.
Carefully add the orzo to minimize broth splashing as saffron stains surfaces and clothing easily. Return shrimp to pan and stir in the parsley, paprika and juice of 1/2 lemon. Taste for seasoning and add salt if necessary. Heat until shrimp is thoroughly cooked, about 2 minutes.
Serve immediately with lemon wedges.
Notes
Saffron is an expensive spice, but don't skimp because it makes this dish! You don't need many threads, less than 1 gram.
We use mild Spanish chorizo. Do not mistake Mexican chorizo that is raw; it doesn't work in this recipe.
The chorizo releases oil so I've reduced the amount from the original recipe to compensate for that. Plus, the chorizo oil is much more flavorful for this purpose.
Adapted from Rachael Ray
Kitchen Nomad http://kitchennomad.com/