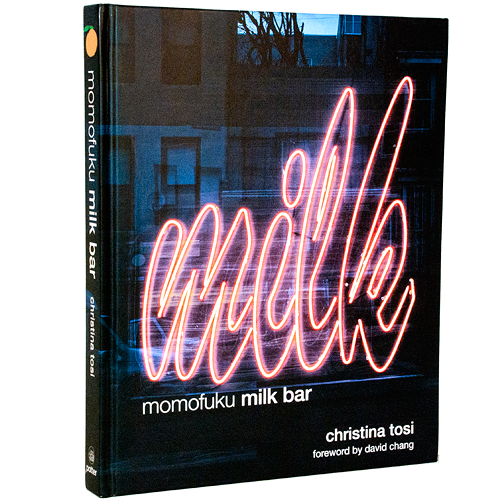 I've said it before, but it bears repeating. Christina Tosi is a freaking genius! If you don't know who she is, allow me to make the introduction. She's a superstar pastry chef who rose through the ranks at David Chang's Momofuku, after leaving the illustrious wd~50. At Momofuku she created distinctive and tasty desserts that warranted their own showcase and thus Momofuku Milk Bar was born. Not sounding special yet? Well, let me clarify. She uses all those things you loved as a child and still enjoy as an adult but wouldn't think to put into your dessert like cereal milk™ and Fruity Pebbles. I knew I'd get your attention.
Last year I had the privilege of spending the weekend in Brooklyn with my husband to celebrate his birthday. I won't bore you with all the personal details of the weekend, but I will say that I squealed with excitement when we got off the subway on our way to the fabulous Buttermilk Channel seeing a Momofuku Milk Bar just outside our stop. I hadn't even had dinner and was already thinking about what I was going to have for dessert because that's how I roll.
After dinner we stopped in and bought a few cookies. I'd had them before and knew better than to buy just one. My husband, on the other hand, had never partaken in the religious experience that is Tosi's treats. While I was there, I picked up an autographed cookbook. Too full from dinner, we indulged in the cookies the next day. I enjoyed every complex, crunchy morsel while my husband made mouth noises asking what magical stuff was in the cookies. There weren't even crumbs left when we finished.
On the way back home to Chicago I dove into the cookbook on the plane. I'm one of those odd people who actually read cookbooks. This one is skillfully written with detailed sections devoted to ingredients (everyday and unique), tools and techniques (be sure to read the section on her creaming method). Tosi explains all her choices and what will happen if you decide to do it your way. I appreciate that. She anticipated all my questions and answered them as if she were in the kitchen baking by my side.
This is one of my favorite cookbooks ever. Yes, ever. I even made the Cornflake Chocolate Chip Marshmallow Cookies for this year's cookie exchange. They were a big hit. This cookbook makes a perfect present for any baker, arming you with new techniques but also instilling confidence in what you already know.
Have you tried any recipes from the Momofuku Milk Bar Cookbook? Let me know in the comments below.